Looking for some healthy Easter recipes and ideas? If so, you are in the right place.
I'm going to share my best healthy recipes and tips to stay happy and healthy at Easter. These are the exact same tips and recipes I share with my training and coaching clients.
I'm letting you in on all of my secrets that will help you look like a domestic goddess, stay healthy, and on track for your weight loss and wellness goals during Easter.
To stay healthy during Easter, it's best to eat foods that are primarily plant-based, high in fiber, high in protein, and low in calories.
The following tips, recipes, and ideas will help inspire you to with delicious ways you can eat healthy during Easter.

All of the healthy Easter recipes listed below are:
Dairy-Free
Gluten-Free
Healthy
High in Fiber
High in Protein
Low-Calorie
Easy to Make
Delicious
Healthy Easter Recipes and Meal Ideas
I recommend using organic ingredients for all of the recipes below.
When you're done going through the recipe round-up, leave me a comment and let me know which idea is your favorite.
I love hearing what you think. 🙂
Healthy Breakfast & Brunch Ideas
For Easter breakfast or brunch I suggest having water, fresh fruit, vegetables, and clean proteins to get your day started right.
Drink lemon water or sparkling water
Water is important, especially during the morning because you've been without water for 6+ hours.
Start your Easter morning off right with filtered water.
Bonus points if you add freshly squeezed lemon to your water.
You'll need approx. 1 lemon wedge for every 8 oz. of water. Lemon juice boosts benefits.
Double Bonus Points if you drink it out of a wine glass. 😉
TIP: Try my Lemon Water Challenge it's the easiest detox you'll ever do.
Quick & Easy Easter Brunch Recipes
Frittata – A frittata is like a crustless quiche. It's literally an omelet you bake in the oven. I like to add approximately 2 cups of mixed omelet-friendly vegetables, like diced broccoli, onion, mushrooms, peppers, tomatoes, spinach, etc. and pour 6 beaten eggs over the top. Season with salt, pepper, herbs, and spices to taste. I bake mine in a 10″ cast iron skillet at 350 until the eggs are cooked and firm. It takes about 30 minutes and tastes amazing.
Easy Egg Breakfast Muffins – These are like mini-frittatas made in a muffin tin. I like to make extras to meal prep breakfast for the next day.

Traditional omelets are great on Easter, too. Use a lot of vegetables to add fiber and stay fuller, longer.
Serve sides of veggies, like tomato and avocado slices. This will help get more fiber and plant-based foods into your breakfast or brunch.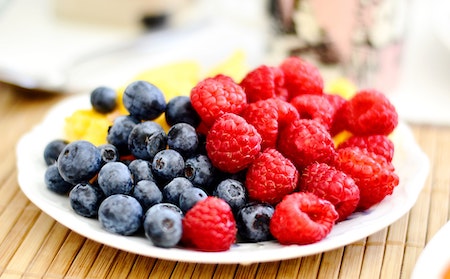 Fresh Fruit
You really can't go wrong with a fresh fruit. Fruit is high in fiber and loaded with antioxidants and vitamins. You can easily serve fresh fruit a few ways:
Pre-prepped and arranged on a platter – You can pre-slice and prep your fruits and arrange them on a platter. It's always fun to arrange the fruit into holiday-friendly shapes. Like this super cute Bunny Head Fresh Fruit Platter.
Whole in a bowl – Whole pieces of fruit like apples, plums, oranges, tangerines, and pears make pretty edible centerpieces for your Easter table. Strawberries, blueberries, blackberries, grapes are easy to prepare. You can also toss them into a fresh fruit salad.
As a fruit salad – Toss your favorite fruits together in a bowl and dress with lemon juice to prevent discoloration. Apples, pineapples, grapes, melons, berries, and watermelon work well together.
In a smoothie – Add your favorite fruits in with your favorite protein powder and nut milk for a quick and easy breakfast. This green smoothie recipe is my all-time favorite.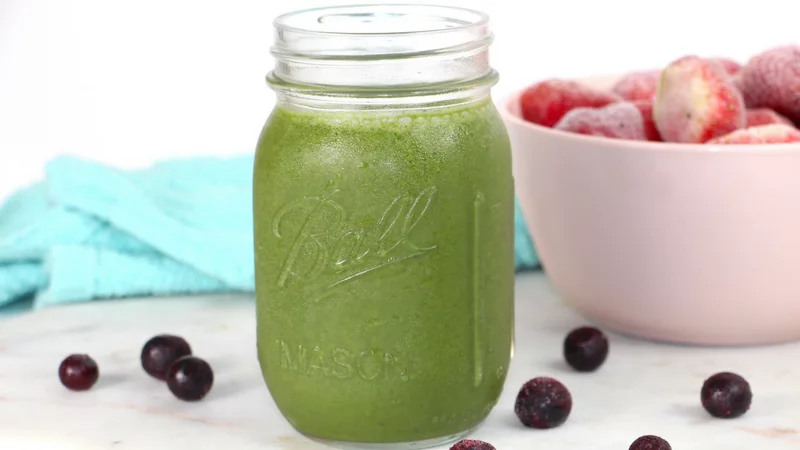 NOTE: Because fruit is high in sugar, it's good to pair fruit with protein and high fiber vegetables to help regulate blood sugar levels.
NOTE: I'm assuming you've already got your main dish(es) covered. Think ham or turkey…
Here are my top ideas for starters and sides that I use and recommend most for Easter.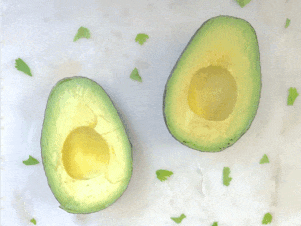 Appetizer IDEAS
Deviled Eggs – Here are 5 Deviled Egg Recipes to try
Avocado Eggs – This quick and easy dish makes a great appetizer.
Roasted Chickpeas – These crunchy, salty, chickpeas are great to make and have out to snack on.

TRY SOUPS AS STARTERS
Soup is a great way to add more vegetables to your Easter meal.
TIP: Try my Soup Cleanse to help you lose weight the easy way at Easter.
This Coconut Thai Shrimp Soup and this Roasted Red Pepper Soup would be great for Easter.
TIP: Butternut squash soup is sweet, colorful, filling yet light, and low in calories and everyone seems to love it. TIP: Try organic, dairy-free butternut squash soup from your grocery store, for a quick and easy appetizer that you don't have to cook.
SIDE DISHES
Addictive Shrimp Ceviche Recipe
My pretty purple Red Cabbage Recipe is the perfect side dish! I make it every year for Easter.
Plant-Based Side Dishes to try – Organic corn, carrots, green beans, asparagus, cauliflower mash, and roasted Brussels Sprouts make great Easter Sides.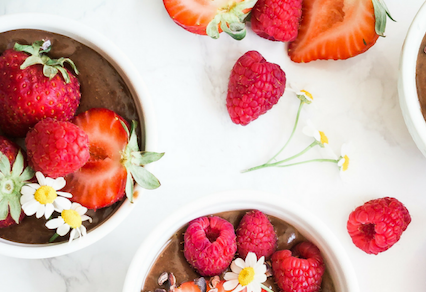 Healthy Easter Dessert Recipes

I hope this inspired you.
When you have a chance leave me a comment and let me know which recipe or idea you like the most.
Enjoy!
xo
Your Coach and Biggest Cheerleader

Pin this post so you'll have it forever.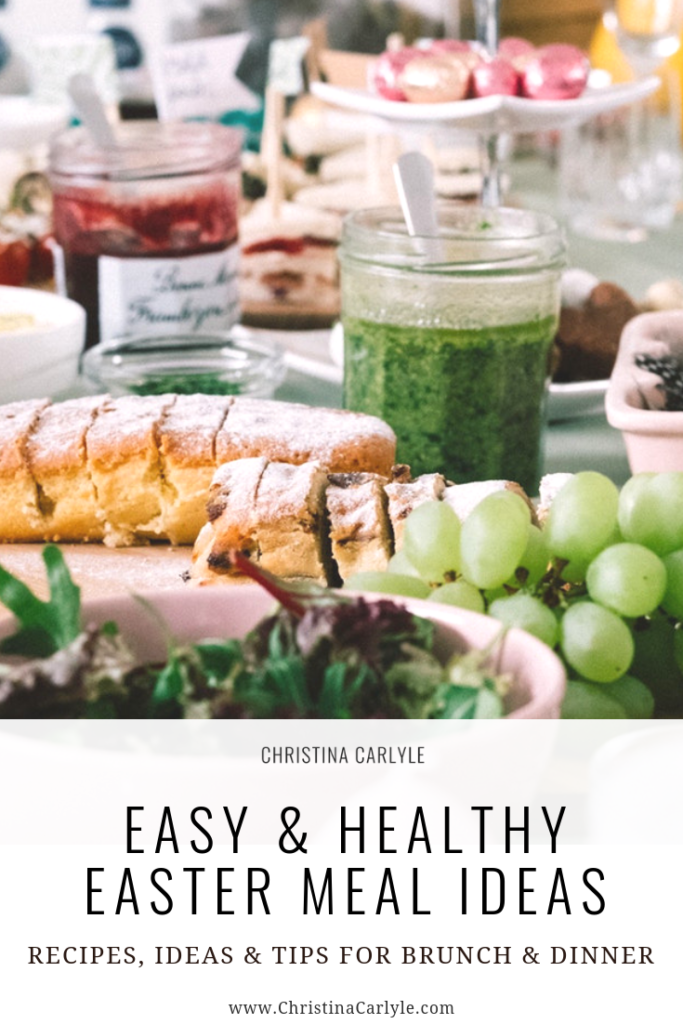 PS. If you make Easter eggs, check out these hardboiled egg and deviled egg recipes.
P.P.S. If you want to cancel out cravings, lose weight, and feel more healthy, energized and confident, check out my Reset Cleanse. It balances hormones and stops cravings from coming back! You can lose up to 10 pounds in 7 days.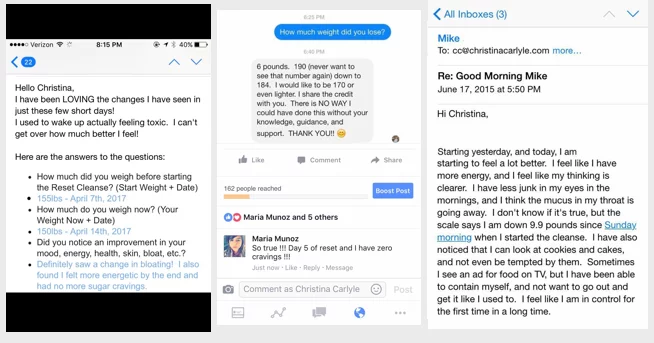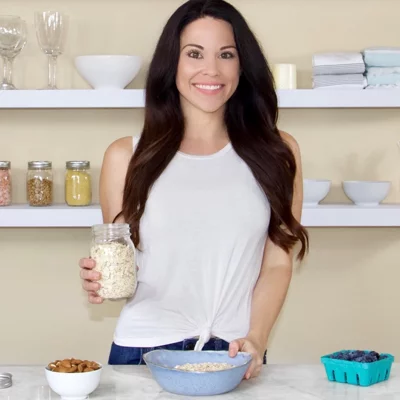 Christina is a certified Holistic Nutritionist, Personal Trainer, & Holistic Fitness & Health Coach. After healing multiple personal health issues, getting off 7 meds, & losing 40 pounds, Christina teaches others how to get Happy, Healthy, & Fit quickly with the most delicious food and least intense workouts.