01 Jul

Healthy 4th of July Recipes
Have you ever gone to a holiday party or get together when you were trying to lose weight?  In the back of your mind you're like 'I hope there's something healthy' 'I hope there's something for me to eat!'
Today, we're talking about patriotic parties, like the 4th of July, Veteran's Day, Memorial Day, or any event repping red, white and blue colors.
Unless you are friends with the Jones's and they are serving grass fed, free range beef, fish caught from a sustainable source and/or organic chicken… the typical food served at parties is hotdogs, burgers, beer, and there is ALWAYS a cheesey, creamy dip with 1000 calories a serving. #MERICA
Sometimes they get fancy and throw out some store bought veggie tray with ranch. Sometimes they even have those yummy (gross, soggy) farmed shrimp rings.
If you are trying to be healthy and lose weight you can't have any of that. I've been there… while I was trying to lose 40 pounds parties always triggered me.  Always.
Even on my strongest day I'm like I have to have at least one drink. JUST ONE. My inner fat girl would start seducing me into going for it.
It's a holidayyyyyy my inner fat girl would say.
It only happens once a year.
I deserve this, she'd say.
Then the next thing I know I'm hovering over the cheesy buffalo chicken dip like a MF hummingbird. This would lead me to an 'f' it mentally and before you know it I'm eating everything in sight. #MERICAAAAAAAA
How to Eat Healthy at 4th of July parties
But now that I've lost my weight, and have kept it off, and am a nutritionist, trainer, and weight loss/healthy coach, I have lots of tips to survive holiday parties and eat healthy, without over-doing it or gaining weight.
First, fill up before you go.  Next, keep your inner fat girl on the opposite end of the room, far away from the buffet table.  Sip water… It's calorie free and physically prevents you from overeating.
If you do eat while you're there, I always recommend skipping bread, cheese, dips, and potato dishes… basically anything starchy or creamy.  They will leave you feeling bloated and too-full isn't cute… especially if you're in a bathing suit or shorts/tank.
I recommend pairing fruits, veggies, and lean proteins together because they're filling but light, helping you feel satisfied and energized instead of blah with a bulging belly.
The best way to stay on track at a party is to bring your own healthy foods.  That way everyone will have a healthy option available to snack on that will help them stay on track with their weight loss and wellness goals.
Healthy 4th of July Recipes 
The following recipes are healthy and festive additions for your 4th of July menu.  You can make them for your own party or to take along to a 4th of July party.  All of these recipes are healthy, delicious, and nutritious. Your inner fit and fat girls will love them. 
Bruschetta
I love love love bruschetta!  It's so light and low in calories but so full of fresh flavor. I know I mentioned before that you should skip bread… and I meant it. Bruschetta isn't just for bread. You will love it spooned over grilled chicken breasts, salads, or in lettuce leaf cups.  It makes an amazing salad on it's own and it's also a tasty topper for the Tuna Stuffed Tomato Recipe below.
2 cups diced tomatoes

½ cup chopped onion

¼ cup diced chili pepper

4 cloves garlic, minced

1 bunch fresh basil leaves, chopped

½ lime

1 lemon

½ tsp. sea salt
 
Preparation:  Combine all the ingredients except lemon, lime, and salt in a mixing bowl. Squeeze the lemon and lime juice over the mix and add salt to taste. Mix well and serve.
Hearts of Palm and Berry Salad
This 4th of July fruit salad is GORGEOUS and so, so yummy! Fresh raspberries, strawberries, blueberries, hearts of palm. Top with lime juice and honey to taste. Then garnish with some freshly chopped mint. This is so refreshing on any hot summer day!  Everyone seems to serve hamburgers and hotdogs on the 4th. I recommend this recipe if you're looking for something to set your 4th of July BBQ apart.
Tuna Stuffed Tomatoes
2 medium-size tomatoes, halved, with seeds scooped out

1 cup drained and flaked water-packed albacore tuna

¼ cup low-fat Organic plain Greek yogurt

2 tbsp. diced celery

1 dill pickle spear, diced

1 tsp. garlic powder
 
Preparation:  Chill the tomato halves. Combine the other ingredients in a small bowl and mix well. Spoon tuna salad evenly into the tomato shells. Chill before serving.  This crunchy chicken salad is so easy to make!! I like serving it in crunchy romaine leaf boats and eat-em-like-tacos. They're so crispy, creamy, and crunchy. Plus, they're filling but light so you don't feel blah and too-full at your 4th of July party.
Red Almond Crunch Chicken Salad
2 4-oz. grilled chicken, chilled and chopped

¼ cup low-fat Organic plain Greek yogurt

2 tbsp. sliced red grapes

1 tbsp. finely chopped celery

1 tbsp. slivered almonds

1 tsp. lemon juice

black pepper to taste
 
Preparation:  Combine all ingredients except lettuce in a bowl and mix well. Chill before serving. To add variety, spoon on top of lettuce, spread onto sprouted whole grain toast…  or you can eat it alone.
Fruit Kabobs
Fruit Kabobs are an easy way to have a nutritious and fun-to-eat dessert. The natural sugars won't make you crash or cause carb cravings the same way cookies, cakes or pies can. Plus, they're so pretty and impressive. Everyone loves them.
Coconut Flake Fruit Salad
Strawberries, blueberries, and coconut shavings make this red, white, and blue bowl a no brainer!! I like to mix in mint and a thin drizzle of honey to add a lil something something. The coconut flakes add a nice pop of flavor and texture, too.
Hummus Strawberry Caps
How amazing do these hummus stuffed strawberries look? They're so pretty and take minutes to make. Simply, core a strawberry and fill it with a teaspoon of hummus. Finish your caps off with a single blueberry and you're done.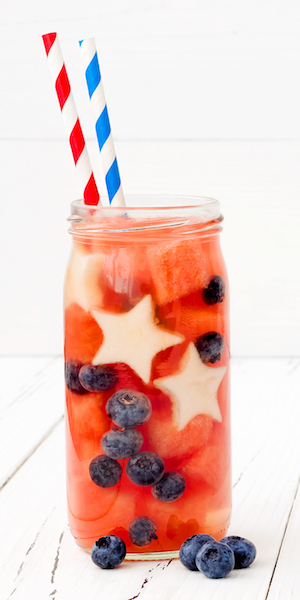 4th of July Drinks
This recipe is easy and fun.  Use a star-shaped cookie cutter and press into watermelon slices to make cute little stars.  Add your stars , blueberries, strawberries, and/or raspberries to water and you'll have a refreshing patriotic drink.
Dessert
If you're looking for a sweet treat, try my Clean and Healthy Homemade Fruit Popsicle Recipe. I hope you enjoyed these recipes. They are all easy ways to add some healthy dishes to your 4th of July table.
Most of the recipes above are appetizers.  If you're looking for healthy main dishes and more snack options check out this collection of my healthy party-perfect recipes.  I also have a post filled with dozens of tips that will teach you how to avoid gaining weight during the holidays.  I know they will help you, if you're struggling.
Enjoy!
Your Coach and Biggest Cheerleader
xxoo