Why should your abs, arms, thighs, and buns get all the attention during your workouts? Sculpting strong shoulders is not only sexy, it's also important! Your shoulders help you do everything from carry your purse, groceries, and children to knocking out that impressive set of push-ups at the gym. But I find that most people don't know how to get sexy shoulders… and I want to show you how.
In today's episode of CCtv I explain:
How to train your shoulder muscles properly
The best exercises that target your shoulders and
How to incorporate them into your workout routine
It'll take a few moments to watch, but will help you for a lifetime. Once you've had a chance to watch I'd love to hear what you think. Leave me a comment to let me know how this video helped you and please share it if you think it could help someone you know.
How to Get Sexy Shoulders
Your shoulders are comprised of three major muscles known as deltoids, and here's how they look: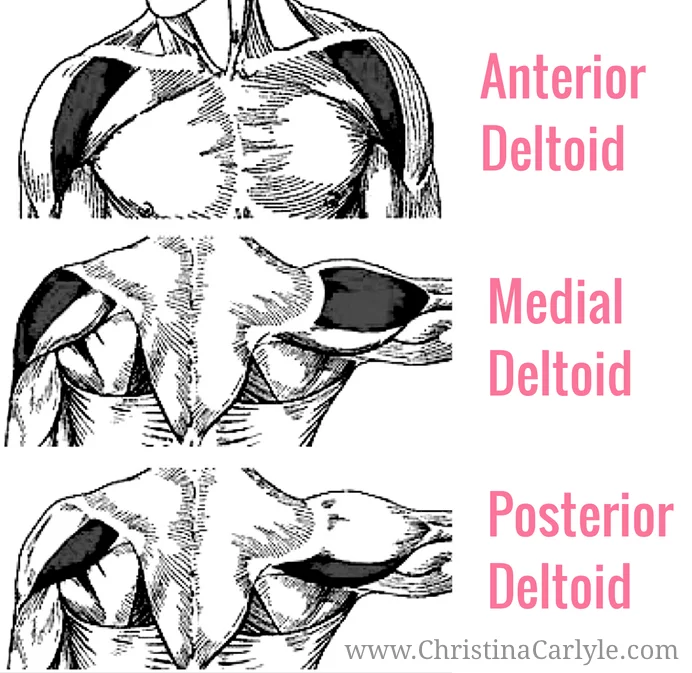 It's very important to develop all three heads of this muscle group, because if one is lagging, it will be painfully obvious. Add a few of these shoulder exercises you're your upper body workouts to decrease your risk of injury, improve your posture, and rock that backless dress.
It works if you work it. Work it, you're worth it.
Your Coach and Biggest Cheerleader
xxoo

P.S. A workout isn't going to do much if you're not following a meal plan that's right for your body type and goal. Are you struggling to stick to your diet – or does your diet continue to disappoint you? I've got your back! You may be struggling because of hormone imbalances, toxic build up and/or you may have metabolic dysfunction working against you. Get my free metabolic analysis and I'll explain what's going on and suggest a plan that will help you fix it so you can start losing weight and feeling great faster. Fill out this profile to get started.