This quick and easy Lazy Girl Leg Workout targets all of the muscles in the lower body.  This entire routine takes about 20 minutes tops, so it's perfect for busy women that want to get fit and healthy on the fly – but have a love/hate relationship with exercise like me. 😉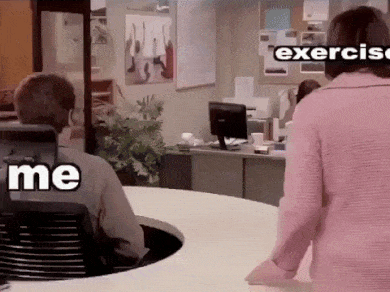 If you struggle with motivation to exercise, but still want to workout, you're going to love it.
What makes this Lazy Girl Leg Workout Awesome
The leg exercises in this workout routine require minimal effort and intensity.
Even though they're 'easy' the still burn fat and boost the metabolism!  Woo!
The exercises also help engage the core so you can tone your tummy, too!
You can do the entire lazy girl leg workout laying down. You could even do this workout in bed if you wanted to.
It's a great leg workout for beginners and those rehabbing an injury
See me explain more and demo the Lazy Girl Leg exercises for you in the video below.
How to do this Lazy Girl Leg Workout
There are 6 exercises in this lazy girl leg workout.
Do each exercise for 15 to 25 reps.  Max out at 25 reps.  If it feels too easy you can add ankle weights.
After you're done with one exercise, move quickly to the next, without taking a break.  This helps keep the heart rate up and burns more fat.
One full round of all exercises counts as 1 set.  Do 3 full sets of all exercises to complete this lazy leg workout.
Bonus points if you do 4 😉
You'll need a set of dumbbells and a stability ball. If you don't have the equipment, skip those exercises and do 5 full rounds of the others.
Ready to rock?  Let's do it!  When you're done, leave me a comment and let me know if you felt the burn.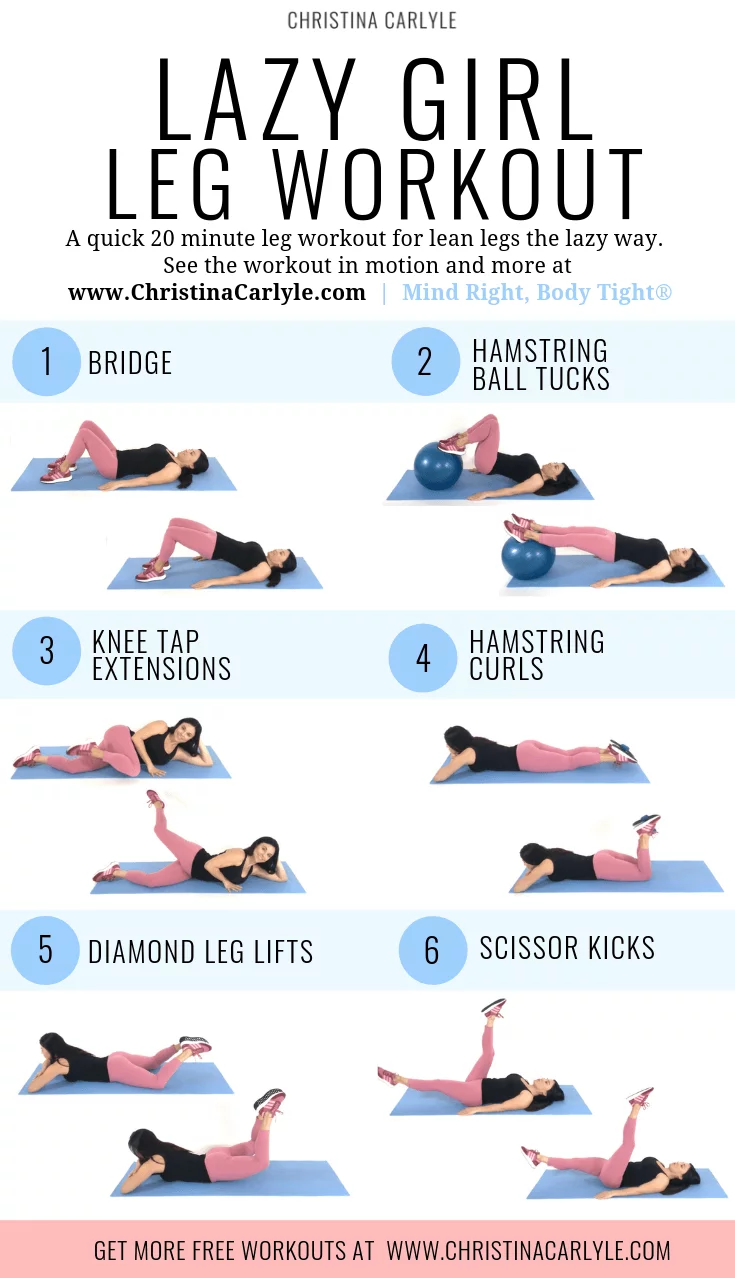 Pin this Lazy Girl Leg Workout to Pinterest so you'll have it forever
Click the pic to get instant access to a free stretching guide to warm up and cool down you can use when you do this workout.  You'll also get other free resources that will make it easier to get results.

MORE NOTES ABOUT THIS LAZY LEG WORKOUT
I recommend doing this routine once a week.
Alternate it with my other lazy girl workouts… My other 6 Lazy Girl Workouts are linked below. 
My Lazy Girl workouts were designed to be done when you're feeling lazy, unmotivated, or just getting started and trying to get in a workout routine.
This leg workout is great if you're a beginner BUT if you're more advanced I recommend adding in with my other workouts for women.  They help boost metabolism more and burn fat faster.
I recommend pairing this routine with these Thigh Exercises for women.
If you want to target your hips, this workout has exercises that target the saddlebags (outer upper thigh/hips)
Did you like this workout?  Did you feel the burn??
This was my fave lazy leg exercise…
Which Lazy Girl leg exercise was your favorite?  Let me know in the comments.
I love hearing from you.
If you think this workout will help someone else that's struggling with motivation, please share it to help another "Lazy Girl" get fit and healthy. 🙂
Sending you so much love
Your Coach and Biggest Cheerleader
xxoo

If you loved this workout you'll love all of my Lazy Girl Workouts!  Check them out::
♥  Lazy Girl Workout (The Original)
♥  (extra) Lazy Girl Workout
If you love my Lazy Girl workout, you'll love the Lazy Girl Exercise Program. Stop working out harder than you have to and start getting better results.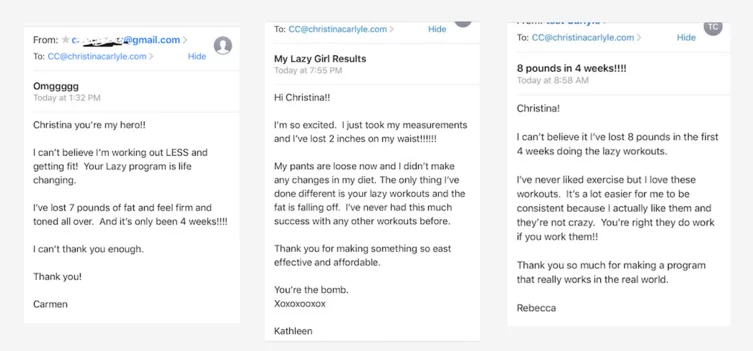 The Original Lazy Leg Workout – Oct 7, 2017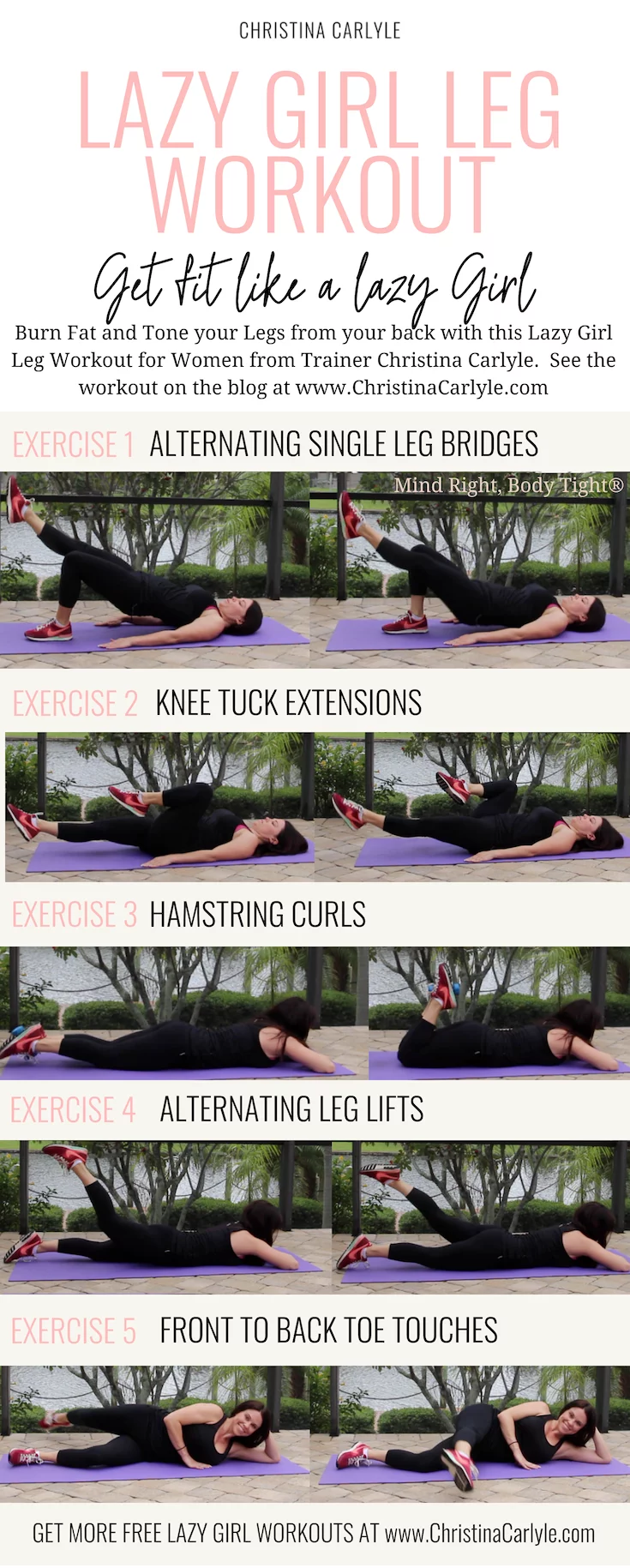 Pin this Lazy Girl Leg Workout to Pinterest so you'll have it forever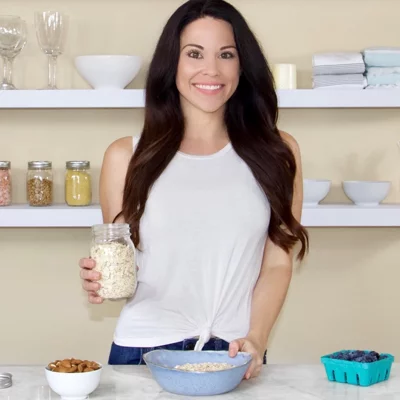 Christina is a certified Holistic Nutritionist, Personal Trainer, & Holistic Fitness & Health Coach. After healing multiple personal health issues, getting off 7 meds, & losing 40 pounds, Christina teaches others how to get Happy, Healthy, & Fit quickly with the most delicious food and least intense workouts.