RESET YOURSELF TO

LOSE WEIGHT

,

FEEL GREAT

&

WIN BIG

IN 7 DAYS FLAT
If you've been struggling to lose weight and feel healthy…
If you're ready to start feeling fit, healthy, and energized…
If you want to stop wasting time and get results quickly – The Reset Cleanse is perfect for you.
You can feel awesome and lose up to 10 pounds in 7 days.
The Cleanse comes with a challenge, too – You can win $100!
WHAT PEOPLE SAY ABOUT THE RESET CLEANSE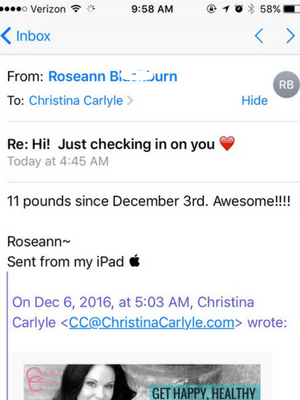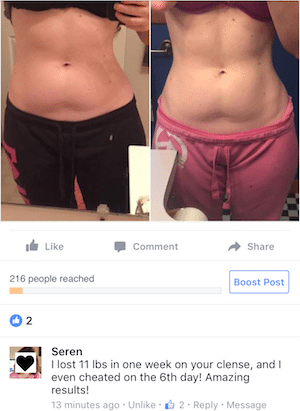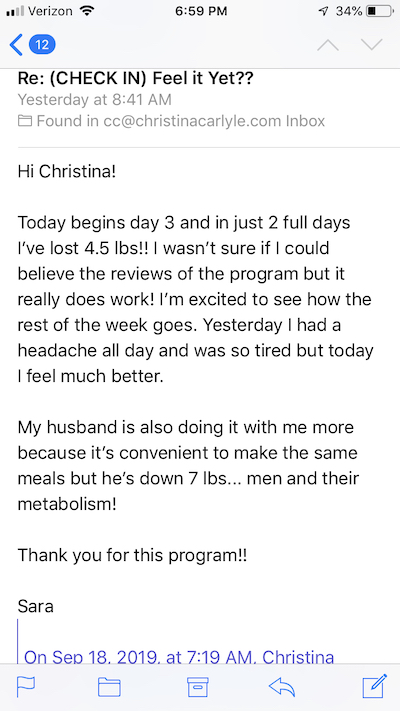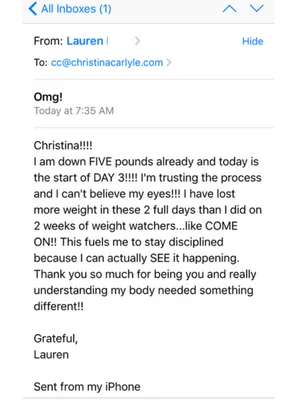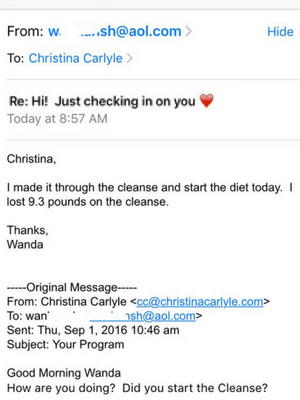 Lose up to 10 pounds?
Feel energized, confident, and motivated?

Stop cravings?

See bloat fade and your stomach get flat?

Feel less hungry and insatiable?

See acne, aches, and pains fade away?

Burn unwanted, excess body fat faster?
THE RESET CLEANSE CAN MAKE THAT HAPPEN IN 7 SHORT DAYS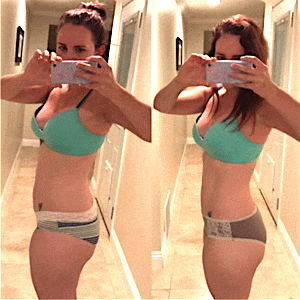 GUARANTEED RESULTS

IN DAYS, NOT WEEKS
WHY THE RESET CLEANSE WORKS SO WELL
IT'S LIKE 10 CLEANSES IN 1
There are dozens of different ways you can detox…
There are detoxes for the digestive system, gut microbiome, cells, hormones, liver, and lymph.
You can cleanse to boost energy, reduce inflammation, cancel cravings, & get clear skin.
If you really want to be a rockstar, you can do all of the above at the same time…
And when you Reset everything you can feel more energized, happy, healthy, and lose fat.
HINT: That's what the Reset Cleanse does and why it gets rapid results.
DETOX + GET FIT, HEALTHY & FEEL AWESOME – AT THE SAME TIME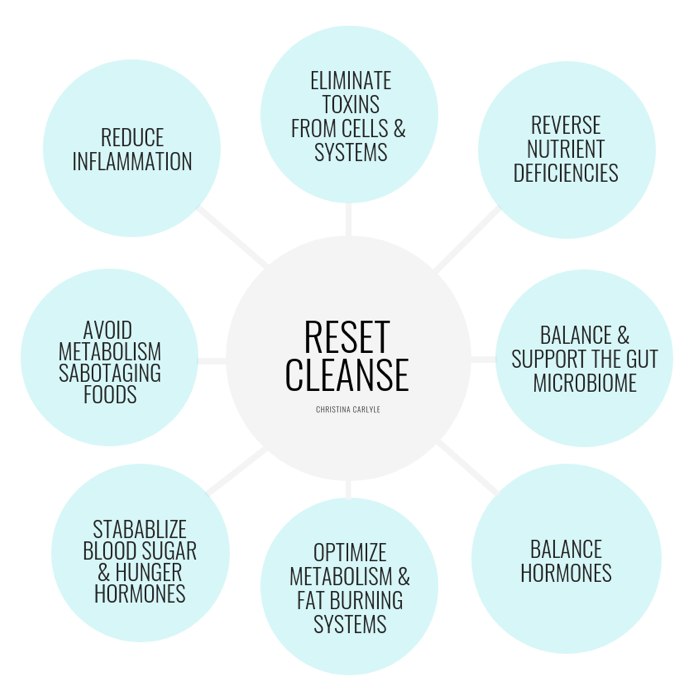 GET THE COMPLETE RESET CLEANSE PROGRAM, EXCLUSIVE BONUSES & A CHANCE TO WIN $100 – A $597 VALUE – FOR JUST $27
Annual Access & Support License – Renews annually
REAL PEOPLE, REAL RESULTS (REALLY FAST)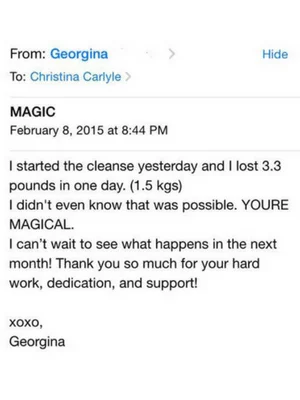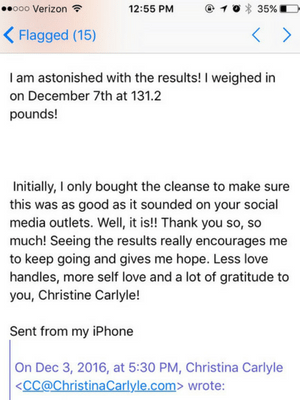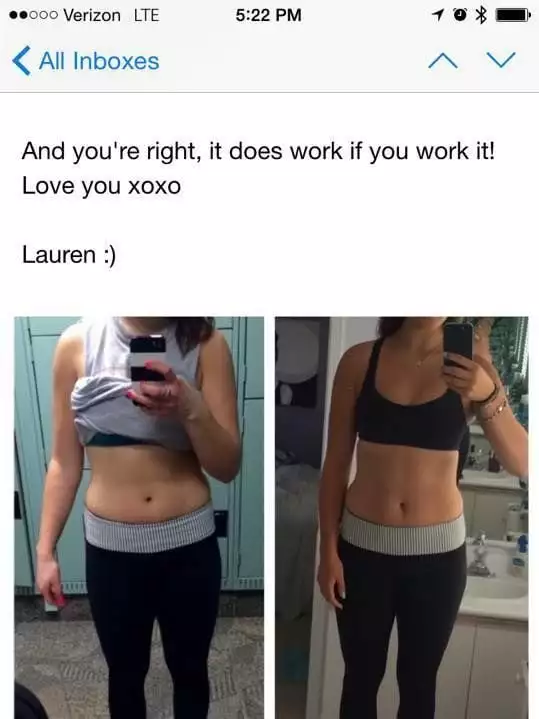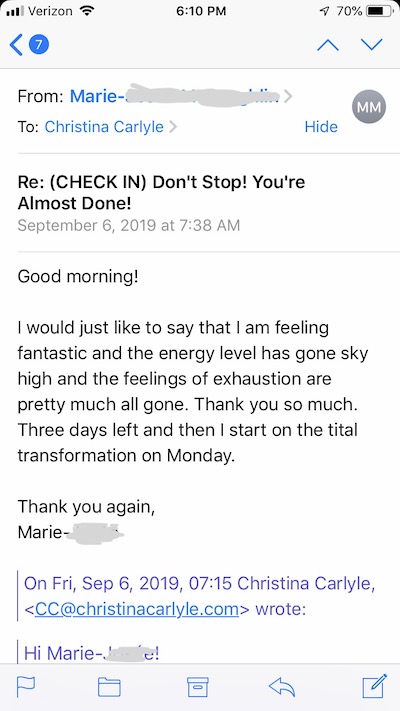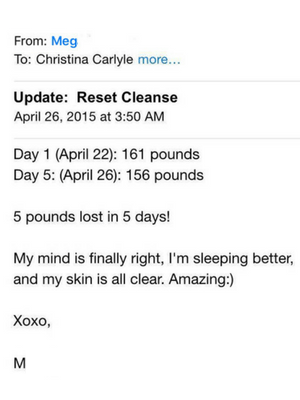 WHAT TO EXPECT ON THE RESET CLEANSE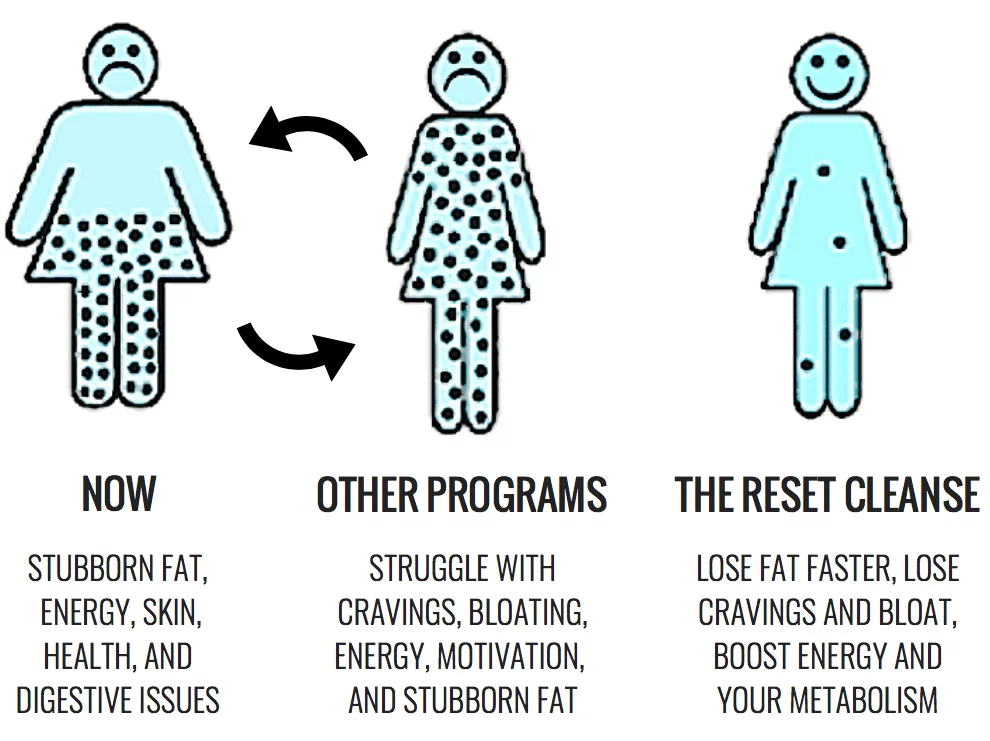 The Reset Cleanse explains exactly how to eat and exercise to detox your entire body & get incredible results ASAP.
Simply eat whole, Reset-friendly foods for 7 days.

The food is delicious, affordable, and easy-to-find around the world.

No additional products are required.
You're encouraged to eat when you're hungry.

No calorie or macro counting needed.
There are 4

optional

exercise sessions you can do to enhance the detox and boost results.
You can lose up to 10 pounds eating unlimited servings of delicious, Reset-friendly foods.
You can win up to $100 in the Reset Cleanse Challenge
IT'S EASY. RESET YOUR BODY, GET RESULTS.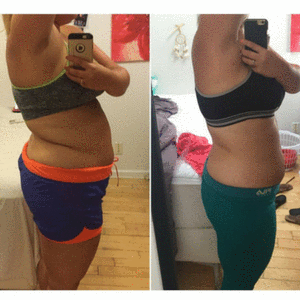 "I felt a difference almost immediately. My back pain was gone when I woke up on day 2. I had lost 4 pounds by day 3. I noticed my skin started looking brighter, too. By the time I was finished I had lost 8 pounds. The fog in my head lifted and I have more energy than I've felt in a long time. You're a Godsend. Thank you Christina."
BURN FAT + DETOX safely WITH THE RESET CLEANSE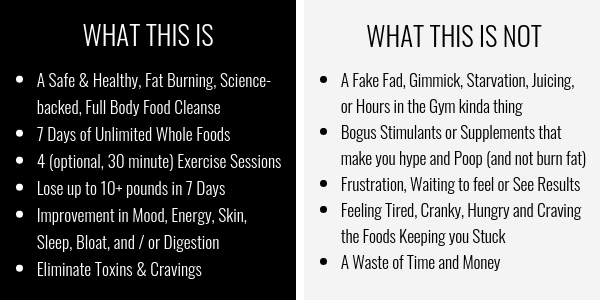 WHAT THE RESET CLEANSE FEELS LIKE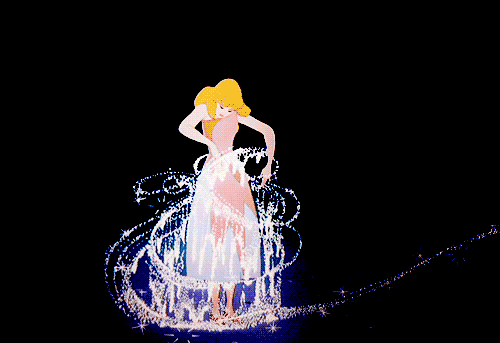 THE RESET CLEANSE IS A REAL DEAL DETOX
Most pill, tea, and juice cleanses often do more harm than good. They throw hormones out of whack, slow down the metabolism, and set you up for rapid regain.
Some contain harsh stimulants make you use the bathroom and feel less hunger… These types of cleanses have you losing waste weight (poo!)… NOT fat.
Juice cleanses have tons of sugar that overloads the liver… and actually makes it harder to detox, burn fat, and stop cravings.
THE RESET CLEANSE IS EASY & AFFORDABLE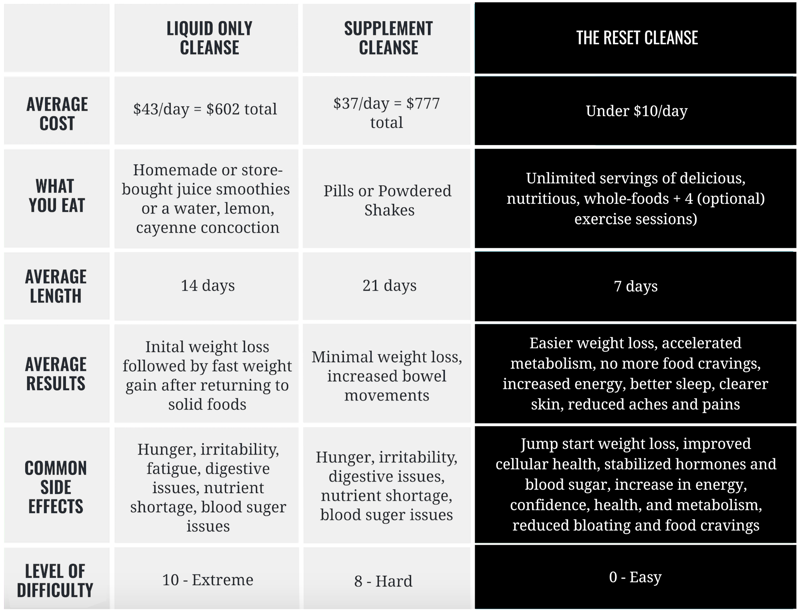 GET THE COMPLETE RESET CLEANSE PROGRAM, EXCLUSIVE BONUSES & A CHANCE TO WIN $100 – A $597 VALUE – FOR JUST $27
Annual Access & Support License – Renews annually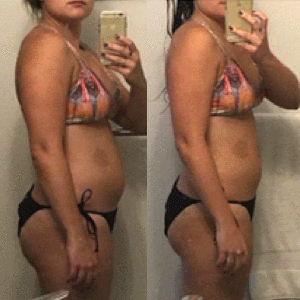 "I can't believe how good I feel after a week! I've tried a pill cleanse that was 30 days long, cost $200, and I only lost 3 pounds. But I lost 8 pounds during my Reset week. I didn't feel hungry or have any cravings either. All the recipes were delicious. My bloat is gone and my energy is way up. I don't wake up running for coffee anymore. Thank you for all that you do!"
Get Everything you need to get rapid results
The Reset Cleanse program includes:
The Reset Cleanse – Discover the simple steps to Reset your body and burn fat in 7-days. (a $97 value)
Reset Cleanse Coaching Videos – Watch quick coaching videos that explain what to do step-by-step so you can customize the cleanse and get the best results possible. (a $297 Value)
The Reset Shopping List – My list of Reset-friendly foods. The food is easy to find, affordable, and delicious.
The Reset Recipe Book

– Get delicious recipes and quick and easy Reset-friendly meals ideas, you'll crave.
My Reset Cleanse Meal Plan – See the meals I make when I reset myself and discover how to make Reset friendly meals you love that work for your family, too!
Instant Annual Access – You'll get instant access to the cleanse so you can Reset yourself whenever you want. Reset now and to get through plateaus, after holidays, vacations, or events later.
… And so much more!
GET THE RESET CLEANSE NOW TO GET THESE EXCLUSIVE BONUSES

A CHANCE TO

WIN CASH
You can win $100. It's Easy.
Do the cleanse, share your results & you can win $100.
It's like getting paid to get results.

Daily DetoxES
eBook
You'll learn 10 quick & easy detoxes you can do with everyday items that will help you get better results
a $27 Value

DIRECT SUPPORt &
CHECK-IN EMAILS
You'll get check-in emails from Christina, to ensure your success and give professional support
a $147 Value
GET THE COMPLETE RESET CLEANSE PROGRAM, EXCLUSIVE BONUSES & A CHANCE TO WIN $100 – A $597 VALUE – FOR JUST $27
Annual Access & Support License – Renews annually
WHAT PEOPLE SAY ABOUT THE RESET CLEANSE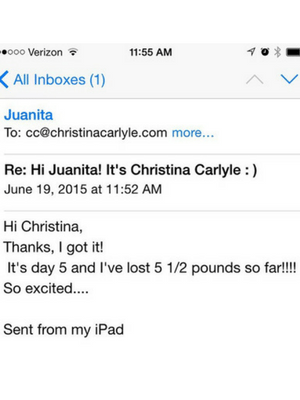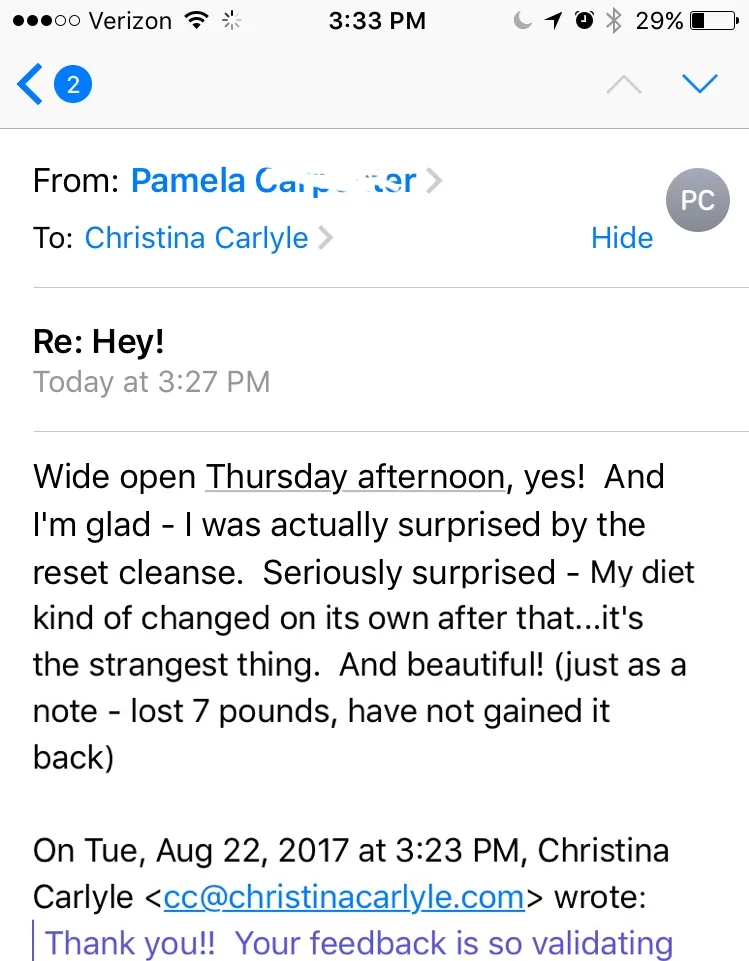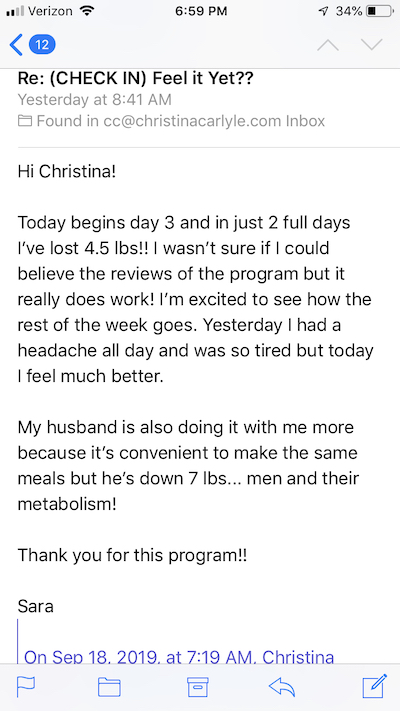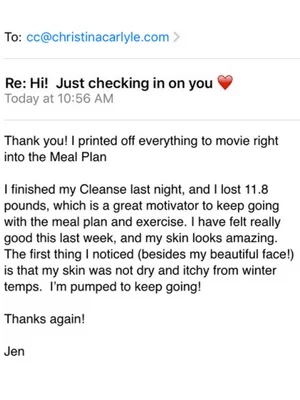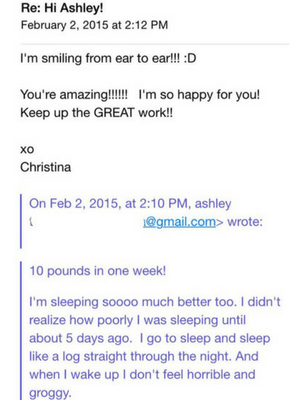 COMMON QUESTIONS ABOUT THE CLEANSE
I'm BUSY HOW LONG WILL THIS TAKE?
It takes less than an hour to go through the cleanse program content; pdfs and coaching videos and to prep to start the Reset Cleanse.
You're simply eating Reset-friendly foods in place of what you normally eat so it doesn't take more time out of your every day schedule.
There are also 4 optional exercise sessions that are 30 minutes or less.
You have time to do this and can feel fabulous asap!
Is this cleanse super strict? Do I have to follow it precisely?
Obviously we're not drinking margaritas and eating bread, burgers and pizza the 7 days of the cleanse because you can't detox properly while you're consuming toxic things.
I've never been 100% perfect doing the cleanse and I created it and have Reset myself dozens of times. : )
You don't have to stick with it 100% to get amazing results either. I design all of my programs to get results sticking to them 80% of the time. I always encourage participation and consistency not perfection.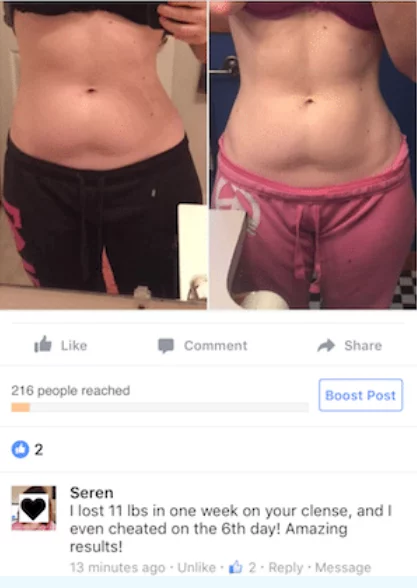 WHAT IF I CAN'T EAT CERTAIN THINGS? (ALLERGIES, PICKY EATER?)
You can do the Reset Cleanse if you're vegan, vegetarian, gluten-free, dairy-free, have food allergies/intolerances, or are a picky eater, too.
There are dozens of food options on the shopping list, recipes, recommendations, and modifications included so you can customize the cleanse to make it perfect for you and get the same amazing results.
DOES THIS CLEANSE WORK FOR MEN & WOMEN?
YEP! All of my programs work for women and men. Men actually tend to lose more weight on the Reset Cleanse because they have more testosterone than women.
IS THE RESET FOOD HARD TO FIND OR EXPENSIVE?
Nope! All of the foods can be found easily, everywhere around the world. No exotic foods or ingredients are required. Most people actually save money on food while on the Cleanse.
100% money back RESULTS GUARANTEE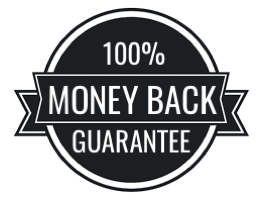 The Reset Cleanse works, if You Work It. That's the 'fine print.'
BUT if you follow the Reset Cleanse as directed and don't experience any results, you'll get your money back.
YOU HAVE NOTHING TO LOSE BUT YOUR UNWANTED WEIGHT, BLOAT, FATIGUE & CRAVINGS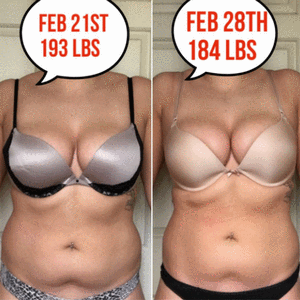 "This is by far the best online program I've ever tried. It did exactly what it said it would. On day 2, I had already lost 3 pounds. My brain fog was gone by day 4. By the time I was done, I had lost a total of 6 pounds but I'm sure it would have been more if I hadn't gotten my period. But, I didn't break out or get bloated like I normally do. Thank you, Christina."
WHAT WIZARD CREATED THIS MAGICAL CLEANSE?
THAT'D BE ME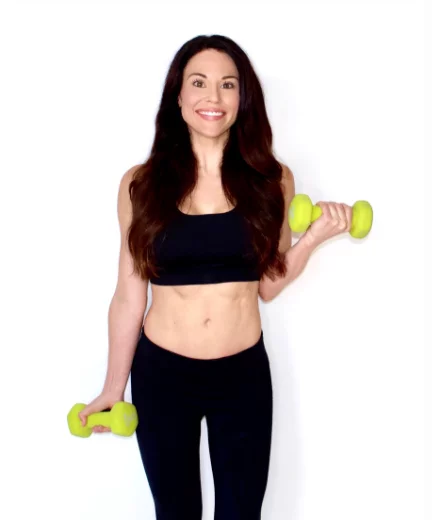 HI! I'M CHRISTINA CARLYLE
Certified:
Holistic Nutritionist, Sports Nutrition Specialist, Personal Trainer, Health Coach, & Behavior Modification Specialist.
Think of me as your Coach and Biggest Cheerleader because I'm here to help you to win!
I developed the Reset Cleanse back in 2009 to help my clients lose weight & feel great ASAP.
I combined the best, most effective effective detoxification protocols for fitness & health into one powerful program and the Reset Cleanse was born.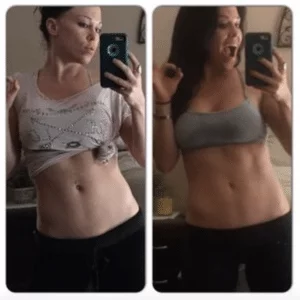 The first time I reset myself I thought my scale was lying, but it wasn't… I lost 8 pounds in 7 days!
My skin looked clearer. My energy was up and my cravings were gone.
Then my clients started Resetting themselves and had the same incredible results…
After perfecting it, I made it available online.
Today, more than 4,000+ people have gotten rapid results with the Reset Cleanse.
Now it's your turn!
GAIN CONFIDENCE & CONTROL OVER FOOD IN 7 DAYS
Do you want to lose up to 10 pounds in a week?
Are you ready to stop cravings?
Are you ready to stop struggling and start strutting confidently?
WHAT ARE YOU WAITING FOR?
GET THE COMPLETE RESET CLEANSE PROGRAM, EXCLUSIVE BONUSES & A CHANCE TO WIN $100 – A $597 VALUE – FOR JUST $27
RESULTS ARE GUARANTEED OR YOUR MONEY BACK
Annual Access & Support License – Renews annually
Individual results vary from person to person. This is a digital program. You'll get instant access via email with your login credentials immediately after purchase so you can get started right away. Nothing will be mailed to you. Because of the digital nature of this program refunds are only given on a case-by-case basis – if no results are experienced after following this program and taking advantage of support. The License for Access & Support for this program renews on an annual basis. You can update your settings & cancel your subscription at any time. Support is optional – I refuse to work with disrespectful, unrealistic, combative, rude, people.