Last Updated on
The powerful personal goal and intention setting practice I'm about to share with you is truly transformational and can help you stick to your resolutions – when you work it.
You can use it to get crystal clear about what you what and motivated to lose weight, get healthy, and change your lifestyle. I like to use it every time I want to get my s*** together.
I also like to use it with my coaching clients that struggle with motivation. Especially those who are going through a tough time and those dealing with depression and anxiety.
But before I get into the details – here's a story of how I've used it to change my life.
I first started this powerful practice back in 2015. I do it every year to gain clarity and motivation to change things that aren't serving me.
2016's theme became: 'Go for it' AKA 'Feel the Fear and do it anyway.' And 2016 was the BEST year of my life personally and professionally.
At the end of 2016 a new theme emerged for 2017. 'Find your smile.' After being super successful, I was in a funk. I couldn't figure out why I was in such a weird mood. Why wasn't I happy? What in the heck is going on??
I used this practice to figure that out… 2017 was brutal. Lots of healing and dealing with personal family stuff. I was in a relationship that wasn't working and I had to cut that off. It was heartbreaking. But I wanted to be a mom. And he wasn't the one…
I did my powerful practice again at the end of 2017… and a new theme emerged.
2018 would be the year to 'Heal and Focus on my Mental Health.'
After 10 years helping others, I felt it was a time for me to cut back and give myself the love I've been pouring into other people. And I did. Even though I felt like the Universe was plotting to kill me.
2018 was especially hard because my back injury from my car accident got worse. I was in pain a lot.
I couldn't work out as much. The people I hired to help me develop my site screwed a lot of things up. Right when I was about to launch it last year, I was learning I had to rebuild it complete from scratch. I wasted thousands of dollars and months of hard work. I was devastated and embarrassed.
A few months later, I had a miscarriage. I wanted to be a mom more than anything and that was particularly hard. I fell into a deep depression. But I did the best I could to grieve as my body and mind healed. It wasn't easy.
I feel the stress from my site was the reason I had the miscarriage so I stepped away from it. I had to.
This practice helped me refocus and snap outta my funk when I did it again in October. It helped me fall back in love with yoga and nature walks again. It made it easier to deal with my friend passing away unexpectedly, too.
I worked on myself while dealing with devastation. And even though I was down, I was finally able to do the things hard things I had avoided in 2017…
The things I wasn't ready to do before.
Things I knew I needed to do but avoided because I was afraid.
Afraid of change.
Afraid I was going to fail.
Afraid I was going to be judged.
Afraid of disconnecting from social media to focus on healing myself.
I was afraid of how it would affect my business.
I was afraid people wouldn't respect the boundaries I set in place.
I was afraid I wouldn't stick to the boundaries I set in place.
I was afraid of being lonely because I knew I'd have to cut a lot of toxic people out of my life… including family and friends.
I didn't want to do a lot of things… But I did it anyway.
It wasn't easy, but healing is a process and there's no right or wrong way to heal.
Magic did happen though…
I could breath again. I found my smile.
It got a lot easier.
I stopped caring about what people think.
I felt reconnected to myself.
Now the empty cup I was pouring from feels full again.
I thank God and this powerful practice for helping manifest the courage to actually do it.
I did this practice again on Christmas Day.
The theme for 2019 emerged, 'Be unapologetically authentic, acknowledge the struggle is real, and lead with love to show others that are struggling it's possible to heal, too.'
AKA 'Be perfectly imperfect – practice what you preach – and preach about the struggles that happen when you practice!!!!!'
Being unapologetically authentic means you have to stand in your truth.
You have to put the oxygen mask on myself before helping others, ya feel me?
That's how self-care works… and it only works if you work it.
Even when it's hard. And let's face it, babe…
LIFE AIN'T EASY AND THE WORLD ISN'T GOING TO ROLL OUT A RED CARPET BECAUSE YOU WANT TO CHANGE
Whether it's your weight, your body, health, relationships, financial situation or _______________ (fill in the blank)…
LIFE WILL THROW YOU A CURVEBALL TO SEE HOW BAD YOU WANT IT.
It always does.
It always will.
It's the Universe testing you to see how bad you want it.
To see how serious you really are.
A test that most people fail, get discouraged and stop before the miracles happen.
NOT YOU. NOT THIS TIME.
But guess what? NOTHING LIFE THROWS AT YOU CAN STOP YOU FROM GETTING WHAT YOU WANT. ONLY YOU STOP YOURSELF!
That's why this Practice is so damn powerful.
It wakes you up.
It opens your eyes.
It gets you inspired.
It makes you feel motivated.
It pulls a plan to change your life out of you… versus forcing it onto yourself.
If you're struggling with self-sabotage, self-esteem, commitment, and feeling like you're not living in your truth THIS PRACTICE WAS MADE FOR YOU.
A powerful goal and intention setting practice for clarity and motivation to change your life
I always do this motivation practice at the end of the year between November and December.
This practice helps you gain clarity and helps you set goals and intentions that make you feel more motivated about changing.
What to do:
Get a notebook, journal, or stack of paper and a pen. Then find a quiet spot away from distractions. BONUS if you make yourself a cup of coffee, lemon water, or tea.
Write down your answers to the following questions.
They are:
What did you learn?
How do I want to feel?
What people and things in my life are (TRULY) important?
What experiences do I want to have, but haven't had yet?
What people and things are making it difficult for me to experience what I want?
What can I do to take better care of myself?
What will I commit to doing to experience what I want?
BOOM
The answers you pull out of yourself will let you know EXACTLY what you need to do.
You can do this practice whenever you want, as often as you want, annually, quarterly, monthly, daily, etc.
You can use this practice to get motivated to do anything. You can choose a specific theme like 'weight loss' or 'finances' or you can use it to access your entire life.
But, it only works if you work it. I hope in some small way that I inspired you to work it.
I believe you deserve to be happy, healthy, and secure in your own skin.
Did this help you? Are you inspired? Are you excited for the new year?
Let me know what's on your mind in the comments below. I love to hear what you think.
Big love
Your Coach, Biggest Cheerleader, and Soul Sister
xxoo

Pin this to Pinterest so you'll have it forever.SaveSaveSaveSaveSaveSave
(post updated January 1st, 2019)
SaveSave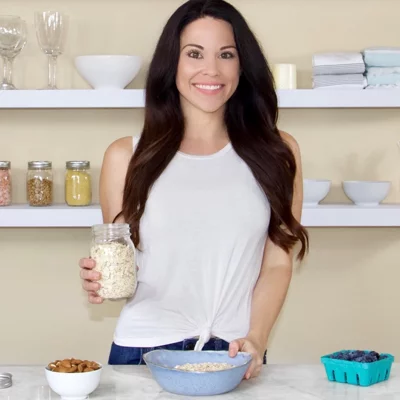 Christina Carlyle is a certified Holistic Nutritionist, Sports Nutrition Specialist, Personal Trainer, Health Coach, & Behavior Modification Specialist. After overcoming her own health issues, getting off 7 medications, & losing 40 pounds (& keeping it off for 10+ years) she's dedicated to helping others get Happy, Healthy, & Fit for life, with science-backed strategies.  Christina shares real deal (no BS) weight loss and wellness advice, workouts, and recipes that get results and work in the real world.