ACTIVATE YOUR BODY'S NATURAL METABOLIC MAGIC TO GET FIT AND FEEL FABULOUS FAST
WITHOUT ANOTHER DREADFUL DIET, STARVATION, OR TOO-INTENSE WORKOUTS
Introducing a pioneer nutrition and training program that will totally transform the way you look and feel fast. It's easy, too!
GIVE YOUR METABOLISM WHAT IT NEEDS AND GET RESULTS QUICKLY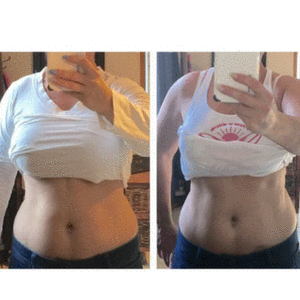 "This program did more for me in 4 weeks, than I did on my own in 4 months. I have tons of energy, my bloat is gone, I sleep like a baby, and I'm down 14 pounds my first month. You are my hero, Christina. I've never been able to stick to diets but this was different and worked just like you said it would. Thank you!"
DITCH DIETS AND OVERLY INTENSE WORKOUTS AND GET FIT FASTER
LET ME GUESS…


You've tried dieting & exercising, BUT…
• The diet was too restrictive, bland, or boring
• You had food cravings & couldn't stick with it
• The workouts were too tough, long, or hard
• You didn't see or feel results and quit
• You lost weight but gained it back (+ more)?
If you want to lose weight and feel great – Stop dieting & working out harder than you have to!
Diets are designed to be temporary, can screw with your metabolism and hormones, which make it harder to burn fat.
Ever follow a diet but struggled with cravings, fatigue, motivation, bloat and barely noticeable results??
Yeah… me too.
You can't get fit & feel awesome like that, my friend.
Say Sayonara to dietS AND
SAY HELLO TO EATING GREAT & LOSING WEIGHT EFFORTLESSlY
NOT ALL WORKOUTS WORK WELL FOR WOMEN
A lot of workouts out there have you jumping around like a caffeinated kangaroo and working harder than you have to. BUT,

Long, intense workouts can cause inflammation and cortisol (which can make fat more stubborn… hello belly fat)
The body adapts to high-intensity workouts over time… which sets you up for rapid regain if you ever stop exercising that much.
The harder a workout is… the harder it is to get motivated to do it.
If your workouts & food don't work together – You won't get results.
You can gain weight & muscle mass if you're not following a complete program designed to get you tighter, toned, and tiny.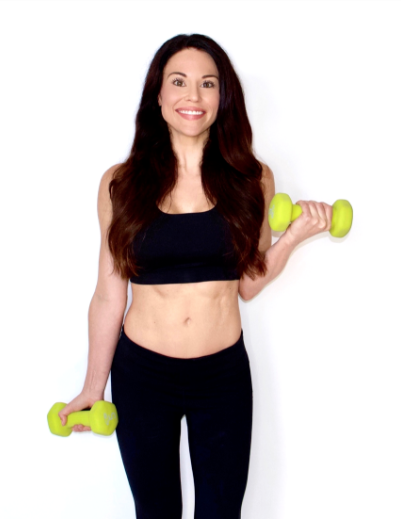 he Total Transformation program will show you how to eat and exercise to turn your metabolism into a fat burning furnace in 4 weeks flat.
STOP making mistakes that make IT HARDER TO LOSE fat AND START GETTING RESULTS THE EASY WAY

Just Like these ladies did

WHAT PEOPLE SAY ABOUT THE TOTAL TRANSFORMATION PROGRAM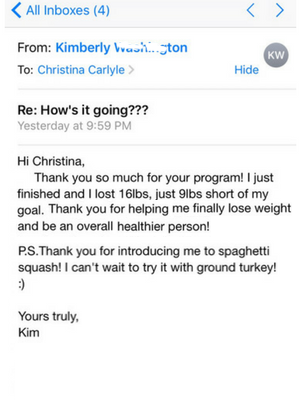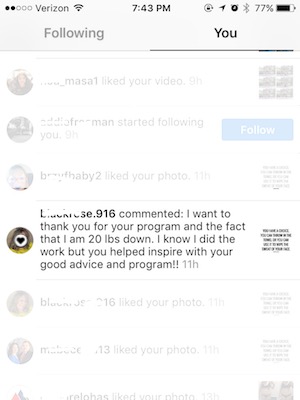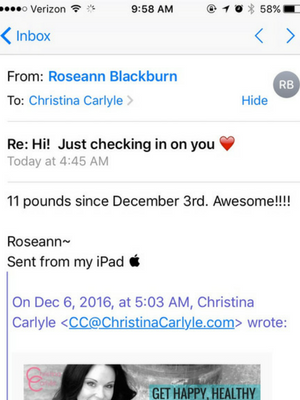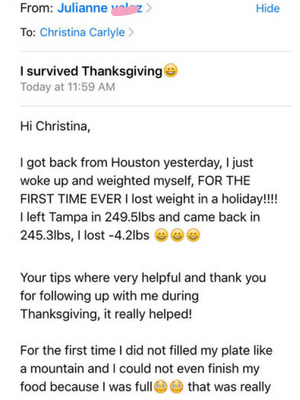 WHAT MAKES THE THIS PROGRAM SO POWErFUL?
IT'S LIKE 10 programs in one!
There are things that make it harder for the metabolism to function. When these things happen it gets harder to burn fat & feel motivated. They are:
• Imbalanced Energy Exchange
• Nutrient Deficiencies
• Out-of-whack Hormones
• Unstable Blood Sugar Levels
• Inflammation
• Autoimmune Reactions
• Toxic Buildup
• Allergy (histamine) reactions
• Leaky Gut
• Imbalanced Gut Microbiome, pH, and stress
If you don't reverse these issues it gets a lot harder to get results.
There are different nutrition & training protocols you can use to overcome these issues.
I combined the BEST, most effective protocols, into one powerful program that addresses everything at once!
This one-of-a-kind program can activate your metabolism's true fat burning potential and totally transform the way you look and feel fast!
Annual Access & Support License – Renews annually



TOTALLY TRANSFORM YOUR FIGURE IN 4 EASY STEPS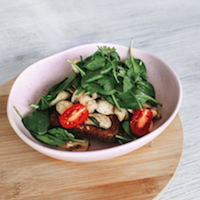 EAT
Enjoy delicious easy-to make meals, that literally program the body and hormones to burn fat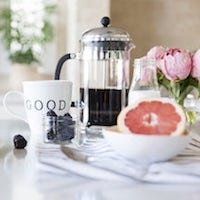 DRINK
Discover how to sip smart to feel more energized, metabolism and regulate hunger and hormones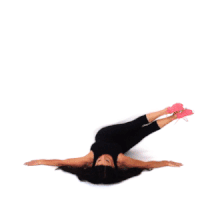 MOVE
Burn fat and tone up with energizing workouts that won't kill you or your joints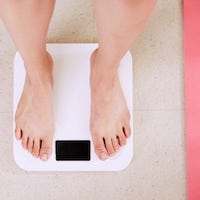 SHRINK
See your fat, cellulite, pesky health issues, and insecurities fade away week after week
GET SCIENCE-BACKED STRATEGY THAT WORKS
I created this nutrition and training program so you can:
♥ Exercise less, Eat More
♥ Get noticeably more Happy Healthy and Fit fast
♥ Feel more energy and confidence quickly
♥ Tighten, Tone, Lose weight and feel even Better
Traditional diets and exercise programs don't do that.
They also don't help clear up other pesky health issues like bloating, hormone imbalances, breakouts, aches, and pains.
THE TOTAL TRANSFORMATION PROGRAM DOES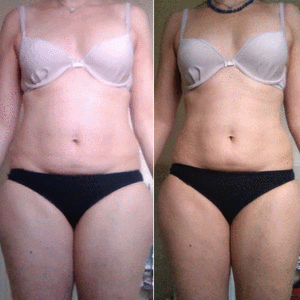 "This the best program I've ever tried. I love the meal plan!! It's so easy to follow. The recipes are great and my husband and kids like them, too. The workouts don't hurt my knees either. My back pain went away after the 1st week. I've lost 13 pounds my first 4 weeks. I'm so excited to keep going. I feel like I can stick with this forever. I wish I would have found you years ago! Thank you so much for being the best nutritionist, trainer, coach, and cheerleader ever!"
Results you can expect WhEN YOU TRANSFORM

♥ Feel more energized and positive
♥ Clear up skin conditions like breakouts, dry skin, & dandruff
♥ Reduce cravings and controlled hunger
♥ Reduced bloating and regulated digestion
♥ Reduced inflammation, aches, and pain
♥ Get deeper, more restful sleep
TYPICAL DIETS AND WORKOUTS PROGRAMS DON'T DO THIS
THE TOTAL TRANSFORMATION PROGRAM DOES
Annual Access & Support License – Renews annually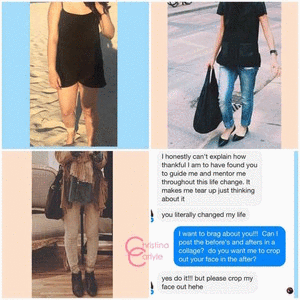 WHAT PEOPLE SAY ABOUT THIS PROGRAM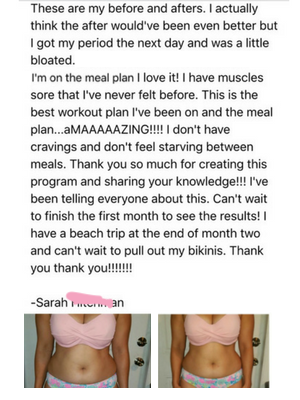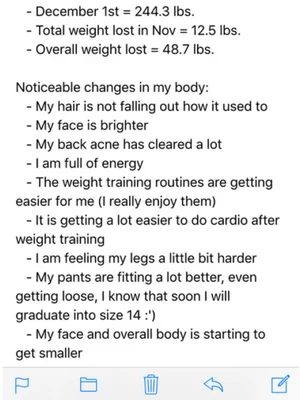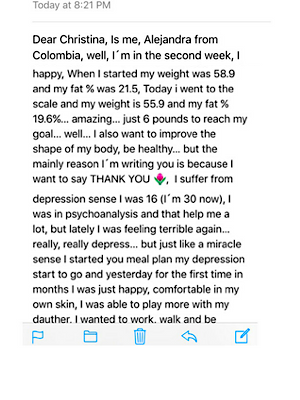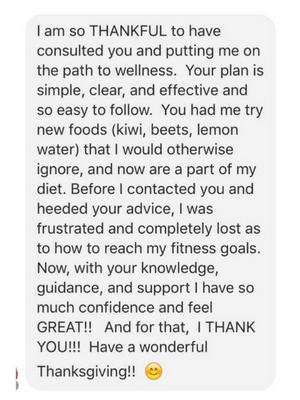 WHAT MAKES THIS PROGRAM SO AWESOME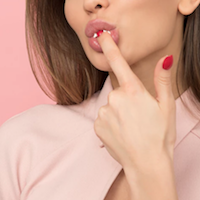 CUSTOMIZATION
Don't like certain foods? Are some exercises off limits? No problem! You can customize the program so it's perfect for you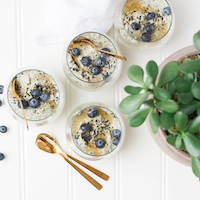 HEALTHY FAST FOOD
The meals are tasty, nutritious, and take less than 30 minutes to make – You'll get over 100 delicious recipes you'll crave, too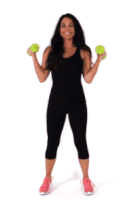 IT'S Do-able
This program was created for busy people. It's easy, actionable, and effective so can start getting (and loving your) results ASAP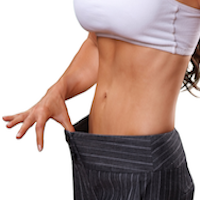 IT WORKS!
This program is proven, backed by science and has been used by thousands of women around the world – It works when you do
GET EVERYTHING YOU NEED TO TRANSFORM in 4 weeks flat
THE MEAL PLAN
Discover the 4 simple steps to supercharge your metabolism and burn fat effortlessly with food. No mandatory kale or chalky shakes required. ($197 Value)
4 weeks of workouts
Get 4-weeks of quick fat burning workouts you can follow online & PDF's to print. ($47 Value)
THE SHOPPING LIST
A list with all of the best fat-burning foods with nutrients needed to turn your metabolism and energy up
SAMPLE MEAL PLANS
You'll get 2, 4-week sample meal plans (one with animal proteins, one that's Vegan) that you can follow or tailor to suit your tastes
LOVE FOOD?
YOU'RE GOING TO LOVE THIS PROGRAM!
The Total Transformation Program comes with 100+ easy & delicious recipes that trigger the body to burn fat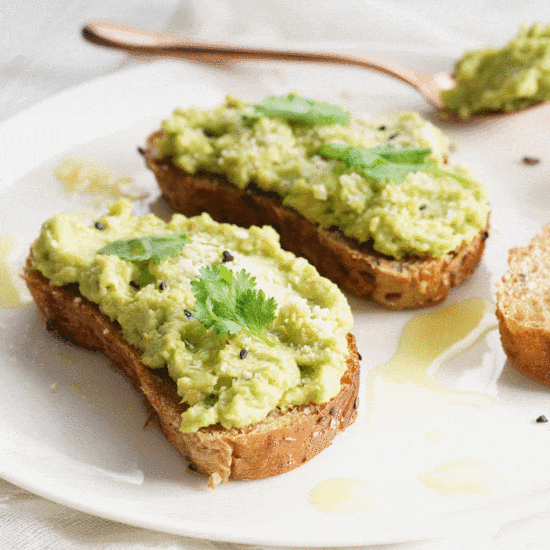 Total TransformAtion COOKBOOK
Over 75+ easy-to-make recipes made with healthy everyday ingredients you'll crave ($27 Value)
BONUS VEGAN COOKBOOK
A plant-based cookbook with 25 delicious recipes packed with nutrition & that don't taste like a lawn ($17 Value)
BONUS DESSERT COOKBOOK
You'll get instant access to a dessert book loaded with recipes that taste SO good and burn fat, too! ($17 Value)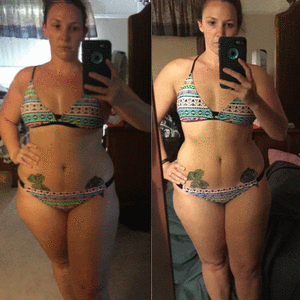 "I'm so glad I tried this program!!!! I don't crave food or feel hungry all the time like I used to. My energy is way up. I don't feel exhausted every afternoon anymore. My eczema cleared up and I lost 12 pounds in 4 weeks. That's more than I lost in 2 months with my trainer!! Your program made me more toned like I wanted, not big and bulky! Thank you!"
START NOW AND YOU'll ALSO GET THESE BONUSES

ONLINE COACHING
You'll get online & on-demand coaching videos that share the simple steps to rapid results ($495 Value)

24/7 EMAIL SUPPORT
Get followup email support from Christina Carlyle herself (yes, it's really me!) throughout the program ($147 Value)

PROGRESS TRAINING
Online Coaching videos that will show you how to track your progress like a pro & get motivated ($17 Value)

AND SO MUCH MORE!
Get easy Meal Planning & Prep Tips that'll save you time and money – Plus, tons of quick & easy recipes you and your family will love
GET THE TOTAL TRANSFORMATION PROGRAM & BONUSES, A $997+ VALUE –
FOR ONLY

$97

NOW
Annual Access & Support License – Renews annually
COMMON QUESTIONS ABOUT THE TOTAL TRANSFORMATION PROGRAM
WHAT IF I CAN'T EAT (or don't like) CERTAIN FOODS?
You can follow the meal plan if you're vegan, vegetarian, gluten-free, dairy-free, have food allergies or are a picky eater, too. There are dozens of food options on the shopping list, recipes, and modifications included so you can customize the meal plan to make it perfect for you and still get the same results.
WILL thIS PROGRAM WORK FOR BEGINNERS?
This program is great for everyone – beginners and advanced exercisers alike. There are modifications & tons of training to customize the workouts & weight to suit your skill level. Plus, the meal plan will boost metabolism and burn fat even if you're unable to do the workouts.
WHAT EQUIPMENT DO YOU NEED FOR THE WORKOUTS?
All you need is a set or 2 of dumbbells and a stability ball to do these workouts.
A bench or sturdy chair/coffee table can be used in place of the stability ball.
By using 'free' weight like dumbbells (you can use plates, kettlebells, barbells, etc.) you'll be able to do the workouts anywhere. Home, gym, etc.
DOES THIS PROGRAM WORK FOR MEN AND WOMEN?
YEP! All of my programs work for women and men. Men actually tend to lose more weight on the Total Transformation Program compared to women because they have more testosterone.
HOW MUCH TIME DOES THIS TAKE?
It takes approx. 25 minutes to go through the meal planning process included with the program so you can start getting results. The workouts take approx. 45 minutes (or less), 5 days a week. (You can do the workouts at home, too, which saves you time going to/from the gym.)
WHAT PEOPLE SAY ABOUT THIS PROGRAM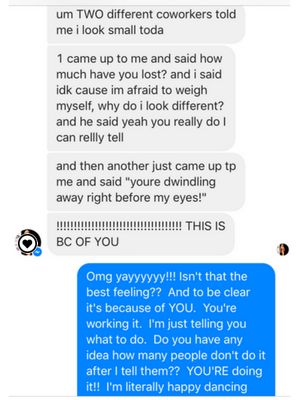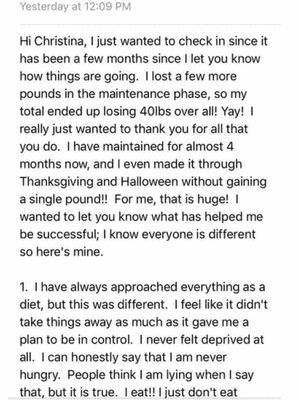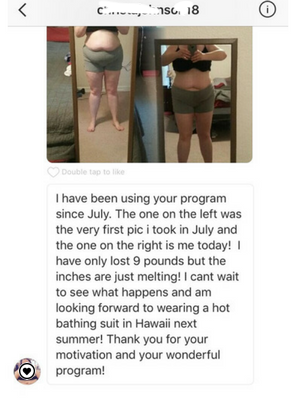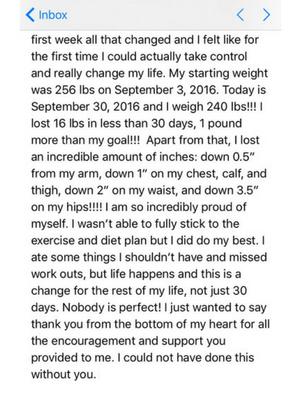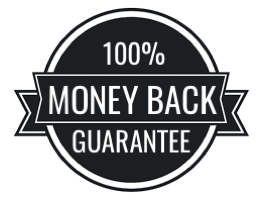 The Total Transformation Program works, if you do. If you follow the Total Transformation, as directed for 4 weeks, and don't see or feel any results, you'll get your money back.
YOU HAVE NOTHING TO LOSE BUT YOUR UNWANTED WEIGHT
GET THE COMPLETE TOTAL TRANSFORMATION PROGRAM & BONUSES, A $997+ VALUE FOR JUST

$97

RIGHT NOW
Annual Access & Support License – Renews annually
WHAT PEOPLE SAY ABOUT THIS PROGRAM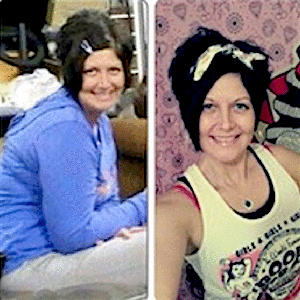 Total Transformation Results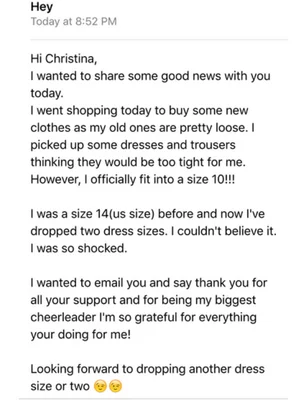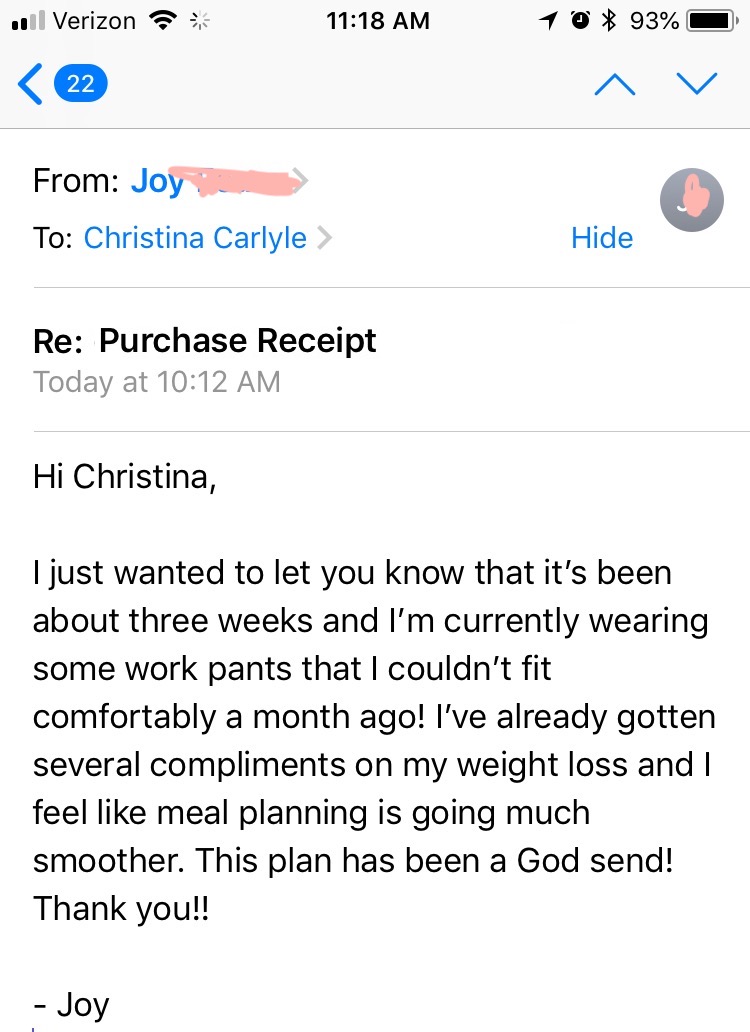 BE MY NEXT SUCCESS STORY – CHOOSE THE NEW YOU NOW
Annual Access & Support License – Renews annually
Individual results vary from person to person. This is a digital program. You'll get instant access via email with your login credentials immediately after purchase so you can get started right away. Nothing will be mailed to you. Because of the digital nature of this program refunds are only given on a case-by-case basis – if no results are experienced after following this program and taking advantage of support. The License for Access & Support for this program renews on an annual basis. You can update your settings & cancel your subscription at any time. Support is optional – I refuse to work with disrespectful, unrealistic, combative, rude, people.