Last Updated on
These quick and easy glute exercises will help you get a tight, tone butt in 12 minutes flat. I'm really excited about this butt workout, y'all.
It's made with 4 of the all time best glute exercises. These moves burn the most fat and target the glutes in different ways. When you do all 4 in a workout routine, you'll tighten, tone and lift your butt quickly.
If you want a rounder, lifted bum, you're going to love it!
THE BEST GLUTE EXERCISES
I've been trying to find a way to lift and tone the booty without a million squats and lifting heavy weights. After testing and training my clients, I found that these 4 aerobic butt exercises work the best at boosting the booty.
These quick and easy exercises target all of the muscles in the glutes, but without high impact or a lot of weight. They'll help you lift, tighten and tone your butt, without bulking your legs or hurting your back and knees.
You only need a stability ball (or bench/chair/coffee table) and a light set of dumbbells that weight 8 pounds or less.
Using light weights allows you to move quickly which keeps the butt exercises aerobic and won't impact your joints or hormones in a negative way.
Lighter weights also help increase your heart rate, calorie burn, and boosts heart-health and mood, too.
The best part? This workout only takes 12 minutes tops. It's the perfect routine to help you burn fat and lift, tighten and tone your butt quickly at home or the gym.
Pin this workout to Pinterest so you'll have it forever.
HOW TO DO THIS GLUTE WORKOUT
Warm up with some light cardio and stretches for 5 minutes.
Do each exercise 20 times each to complete one set.
If you see an exercise being done with one leg, make sure you do 20 reps with the other leg, too, to complete your set.
Squeeze your butt and abs tight during the exercises.
Each set should take about 30 seconds. So make sure you move quickly and use a light weight.
Do 6 full rounds – of all 4 exercises – to complete this workout.
Do this workout routine 2 days a week to help lift and tighten your tush.
For the best results, follow my Total Transformation meal plan and exercise program. It'll help you burn more fat, boost your metabolism, balance your hormones, and build tone muscle faster.
When you're done with this workout routine, leave me a comment and let me know if you felt your booty burn.


The Best Glute Exercises for Women
SINGLE LEG BRIDGE
Lie on your back with your knees bent. Lift one leg up. This is your start position. Lift your hips up until your body is in a straight line. Keep your hips level. Slowly lower back down to the start position to complete one rep. Complete the same number of reps with your other leg to complete one set.
STABILITY BALL LEG LIFTS
Lie with your hips across a stability ball and your palms and toes on the floor. This is your start position. Squeeze your glutes as you lift your legs up off the floor as far as you can. Note: You may have to bend your arms slightly for more stability and control of the movement. Lower your legs back down to the start position to complete one rep.
CURTSEY LUNGE
Stand holding a pair of dumbbells, with your feet shoulder-width apart. This is your start position. Cross one leg back behind you as you lower down into a curtsey. Push up to the start position then repeat the curtsey on the opposite side. Do the same number of reps with both legs to complete one set.
SINGLE LEG DEADLIFTS
Stand with all of your weight on one leg, while holding dumbbells. This is your start position. Bend at the waist lowering your arms to the floor. Keep your hips square and the weights close to your body as you lower your dumbbells down towards the floor. Lift back up to the start position, to complete one rep. Complete the same number of reps with your other leg to complete one set.
This workout works, only if you do! So work it. You are so worth it.
Did you work it? Did you feel the burn? Let me know in the comments.
With love
Your Coach and Biggest Cheerleader

If you like this glute workout, you'll love these butt workouts, too.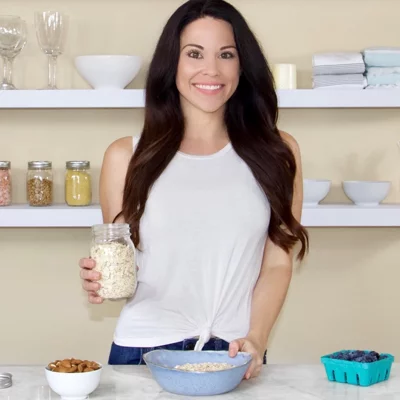 Christina Carlyle is a certified Holistic Nutritionist, Sports Nutrition Specialist, Personal Trainer, Health Coach, & Behavior Modification Specialist. After overcoming her own health issues, getting off 7 medications, & losing 40 pounds (& keeping it off for 10+ years) she's dedicated to helping others get Happy, Healthy, & Fit for life, with science-backed strategies.  Christina shares real deal (no BS) weight loss and wellness advice, workouts, and recipes that get results and work in the real world.