*raises hand* Hi, my names is Christina Carlyle and I'm addicted to Ceviche. 100%, hardcore, once I pop, I can't stop… gonna scrape every itty bitty bit from the bowl, feel-sad-when-it's-all-gone-addicted. There! I admitted it. But, there's no shame in my game.
Ceviche is a light and tasty fish, veggie, and citrus salad dish. Traditionally, raw fish is mixed with veggies in lemon/lime juice and the acid ends up 'cooking' the fish.
Preparing ceviche, at home, the 'real way' freaks me out. The thought of accidentally getting a piece of raw fish borders on a Fear Factor challenge for me.
I don't know about you, but I'd much rather stick with sushi if I want raw fish. Plus, farm-raised fish like tilapia are so acidic and inflammatory… which can cause bloating, heartburn, joint pain, and muscle aches. No thanks!
Since, I'm all about making healthy, easy breezy meals that maximize the metabolism. I decided to make my own version because ceviche is delicious and packed full of nutrients and fresh flavor guaranteed to fill you up without filling you out. It's easy to make, healthy, low calorie, low carb, and it's loaded with vitamins and protein.
I always make this when I'm trying to impress a boy, entertaining a get-together or want to chow down without feeling guilty. Every single person who's tasted it literally makes sex noises… it's THAT good.
Your taste buds will dance eating this healthy shrimp ceviche recipe!
Healthy Shrimp Ceviche Recipe
You'll need:
1 pound pre-cooked, peeled, shrimp, thawed rinsed and chopped (WILD CAUGHT, NOT FARMED)
1 medium cucumber, diced
1 medium tomato, diced (2 Roma tomatoes would work, too)
1 medium avocado, diced
1 green pepper, diced
½ red onion, diced (want to stop onion/eye burn? Soak the onion in a bowl full of ice water for 10 minutes prior to cutting it)
4 cloves of fresh garlic, minced
4 tbsp fresh cilantro leaves, chopped
Juice of half a lemon
Juice of 1 lime
Add salt and pepper to taste
What to do:
Cut all of your veggies and shrimp. Heads up… be sure you cut everything so that they're all about the same size. I highly recommend you get one of those slap-chopping devices… Combine all ingredients in a serving bowl. Mix well and chill in the refrigerator for 10 minutes. Boom! You're done! This recipe makes 8 servings with 140 calories per serving.
Serving Suggestions:
You can serve the ceviche like a salad or a side dish. I recommend serving it with shredded organic non-GMO whole grain tortillas or organic blue corn chips at parties.
For lunch, I like to add a few tablespoons onto sprouted, whole-grain tortillas with a teaspoon of hummus and some hot sauce and roll them up like burritos.
When I want a low carb option I use iceberg lettuce leaves, spoon in the ceviche, add hot sauce and eat them like tacos. This dish is perfect for summer BBQs, parties, and potlucks.
Leave me a comment to let me know how yours turns out.
Enjoy!
xxoo

Pin this post so you'll have it forever.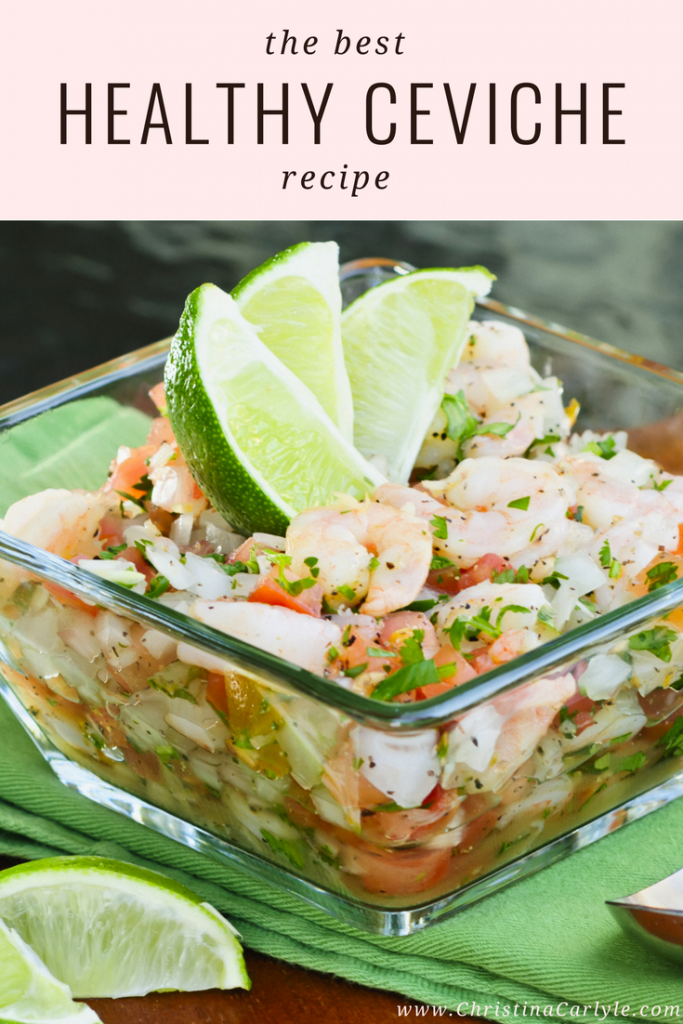 Save
Save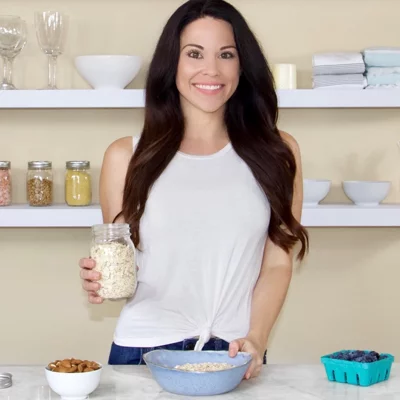 Christina is a certified Holistic Nutritionist, Personal Trainer, & Holistic Fitness & Health Coach. After healing multiple personal health issues, getting off 7 meds, & losing 40 pounds, Christina teaches others how to get Happy, Healthy, & Fit quickly with the most delicious food and least intense workouts.