Requests for exercises that will tighten and tone the bat wing/bra strap area and burn upper body fat have been trending in my inbox lately.
Today I'm sharing a Fat Burning Upper Body Workout Routine for women that tightens and tones the triceps, back and bra strap area.
That's what today's episode of CCtv is all about.
Arm and Back Fat Burning Superset Workout for Women
See me share this super effective superset workout routine – that targets the arms and back fat area. It'll help you burn more fat, in less time, using the superset strategy for women.
NOTE: This is part 5 of the superset training series I started a few weeks ago…. There are links to the rest of the workouts from the series below) I really think you're going to love it because it WORKS.
My back and arms are still sore from shooting this workout 2 days ago and I only did one round of each superset!
Pin this pic so you'll have this workout forever.
When you're done doing this workout, leave me a comment and let me know which superset you liked the best.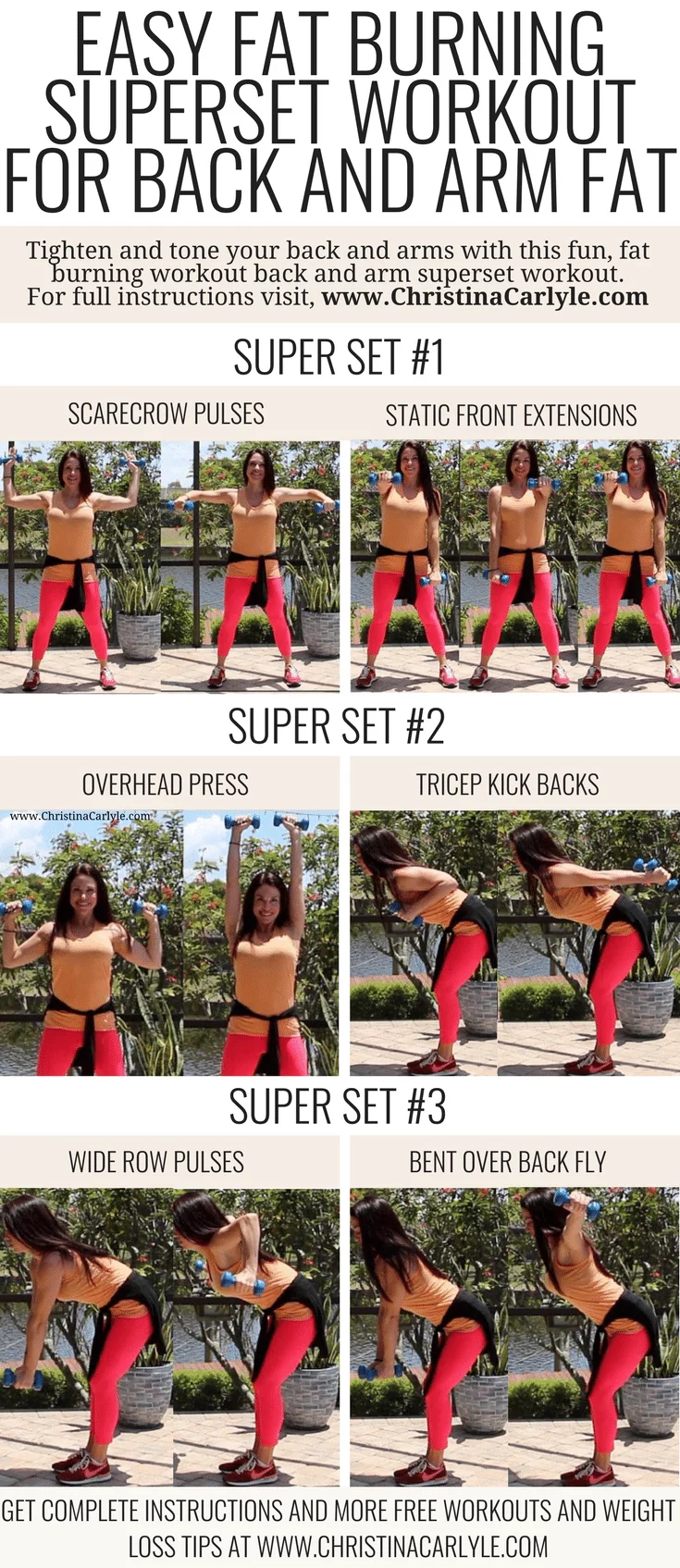 How to do this Arm and Chest Superset Workout
This superset workout combines back and arm exercises strategically, so you'll burn fat and build sexy lean muscle in your triceps, shoulders, and back muscles at your bra strap.
There are 3 supersets in this superset arm workout routine.
Each superset has 2 exercises.
Do each exercise – within the superset – 20 times each – to complete one set.
Bounce between the 2 exercises in the superset quickly… taking little to no rest between the exercises. (This will help you burn more fat.)
You'll need to do 3 full rounds of 1 superset before moving on to the next superset.
Do 3 full rounds of all 3 supersets to complete this fat burning upper body workout.
That's it! Which superset did you like the best? Leave me a comment and let me know.
For results, do today's upper body workout along with these other superset workouts for women in this series.
It works if you work it! So work it! YOU are so worth it!!
Your Coach and Biggest Cheerleader
xxoo

P.S. These may help you! I have dozens of workouts for women for you to check out here … and crazy-popular post about how to target and lose fat in the bra bulge area.
P.P.S. This workout will help you target, tighten, and tone the back and arm muscles. Unfortunately, you can't spot reduce fat… To burn fat quickly and consistently add a complete meal plan or complete training program. If you need help, I've got you covered. My programs will help you get noticeable results in DAYS not weeks!! Guaranteed.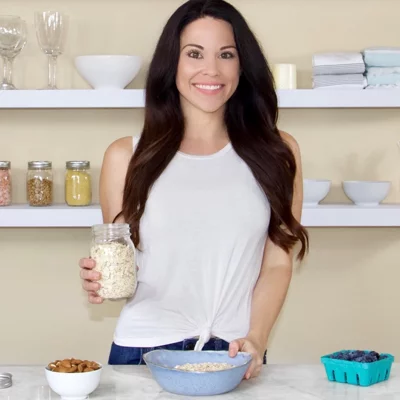 Christina is a certified Holistic Nutritionist, Personal Trainer, & Holistic Fitness & Health Coach. After healing multiple personal health issues, getting off 7 meds, & losing 40 pounds, Christina teaches others how to get Happy, Healthy, & Fit quickly with the most delicious food and least intense workouts.